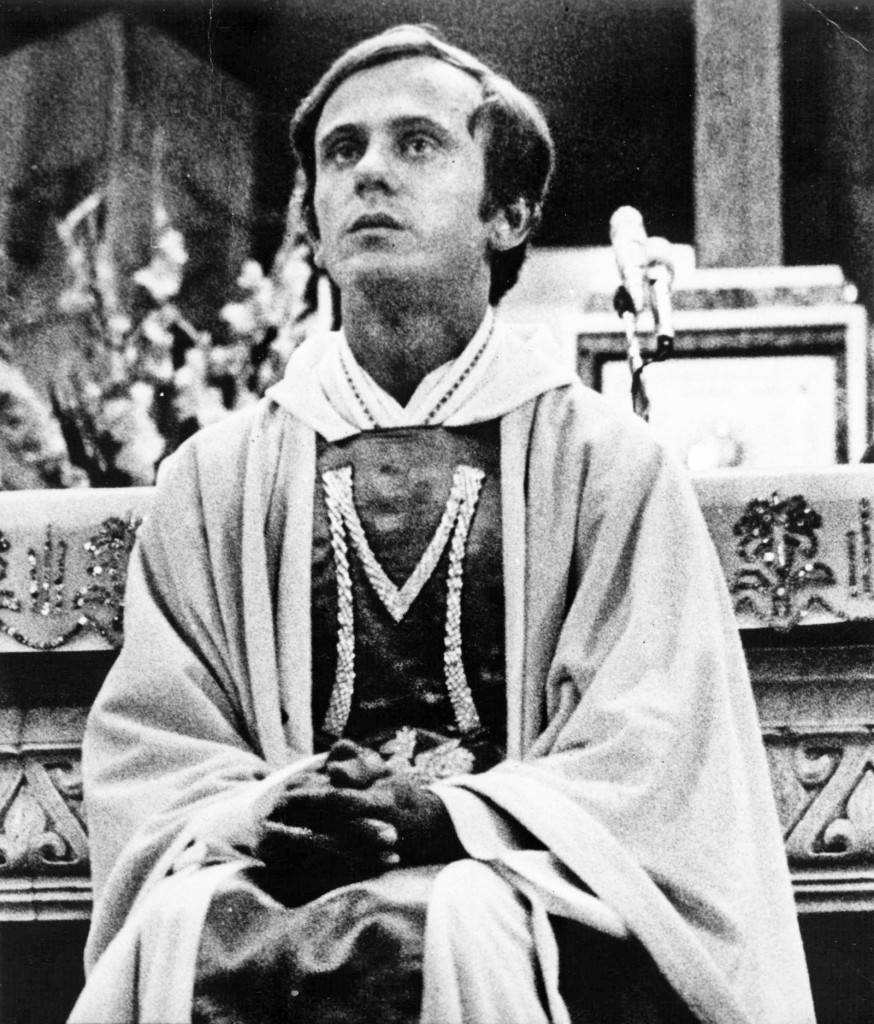 Solidarity, as a virtue, is also a vital principle in Catholic Social Teaching. In Pope John Paul II's 1987 encyclical Sollicitudo Rei Socialis (38), he defines solidarity as:
Not a feeling of vague compassion or shallow distress at the misfortunes of so many people, both near and far. On the contrary, it is a firm and persevering determination to commit oneself to the common good; that is to say, to the good of all and of each individual, because we are all really responsible for all.
Both Solidarność and solidarity came and come at a cost, a sacrifice. Carrying the burdens of one another means putting others and their needs above oneself and one's own desires.
Yet hope is found in the deeper reality that sacrifice always unites one to Christ, particularly Christ on the cross. For some, including Bl. Jerzy Popiełuszko, the sacrifice of Solidarity has culminated in death. On 19 October 1984 he was kidnapped from his car by the secret police after mass, brutality beaten, bound and gagged, and thrown into a river to be drowned if he hadn't suffocated or died from the beatings already. His body was found ten days later.
But martyrdom was nothing new to Fr. Jerzy. He had suffered physically and was weak and sickly since childhood, which one never would have known seeing him standing strongly with the leaders of Solidarność. He was persecuted and ridiculed by his peers for his faith in officially "atheistic" Poland, and beaten brutally and frequently to the point of needing internal organ surgery after refusing to defile his sacramental and renounce his faith during his mandatory military service prior to his ordination. These quiet martyrdoms and death to self day in and day out of his life – ones that largely went unnoticed compared to the figure he became – bore equally important spiritual fruits. Jerzy's call to the priesthood was one that recognized the very nature of the priesthood itself was one of martyrdom.
This year's WYD coincided with much going on in the larger world. On the first day of WYD, Tuesday, July 26, I was waiting around in the back of Kraków's Tauron Arena for a soundcheck with my choir. It just so happened that the Canadian National Gathering was happening on the mainstage prior to my soundcheck, so I sat there in the back with my rosary. It was then that Basilian priest and CEO of Salt and Light, Fr. Thomas Rosica, led a prayer. I stood and participated, but then Father completely dropped a bomb on me and others in the crowd by announcing the attack on the church in France and the murder of elderly priest Fr. Jacques Hamel as he was celebrating mass earlier that day. I am not exaggerating when I say that my hand immediately covered my mouth in horror as Fr. Rosica described it in much more detail than I am to here, as surely most of my audience is already familiar with the story. In fact, I have had a brief stint conducting research and writing on religious violence, terrorism, and the refugee crisis, so I consider myself to have developed a strong resolve with heavy and disturbing news, while attempting to maintain my compassion. However, having had little access to wifi and my usual instant news stream, this came completely out of nowhere for me and I found myself having to stifle a loud cry as I suddenly and uncontrollably burst into tears.
This is that sacrifice, and the martyrdom of the priesthood. Ordinary parish priests turned martyrs like that of Fr. Jerzy are no longer (if they were ever) merely figures of history, but they are part of the living, breathing Church. In the Latin Church, it is said that the priest is called to be in persona Christi, or "in the person of Christ" at certain points in certain sacraments, including key parts of the liturgy of the Eucharist during the mass. This simply means that he is a physical person filling the role of what Christ is doing supernaturally in the sacraments (ie consecrating blood and wine into his body and blood, or absolving sins in confession). But what truer way can a priest be in persona Christi than through martyrdom? Perhaps nothing could unite one closer to the supernatural reality of the mass than in laying one's life down during the liturgy itself? Fr. Hamel is in the company of the likes of Bl. Oscar Romero, and appropriately for the location of Kraków, bishop and martyr St. Stanisław (not to be confused with the Jesuit patron of Fr. Jerzy's parish), both of which were killed while saying the mass. This St. Stanisław, while a hero in the Polish imagination for generations, had particular importance as an iconic figure for opposition movements such as labor union Solidarność (although he was surpassed by, it's worth mentioning, the great icon of Solidarność and Queen of Poland: the Black Madonna of Częstochowa).
Upon hearing the news of Fr. Hamel, my mind immediately went to the image of St. Stanisław. Later in the week I was blessed to find myself in mass a mere several feet away from his resting place at Wawel Cathedral. Having been assassinated on the orders of a corrupt king, St. Stanisław serves as a patron for those oppressed and even killed by corrupt governments, and in that Bl. Jerzy ultimately shared in a spiritual connection with him.
The two saints share another thing in common, and that is that their death was not the end of their legacies. Nor did their deaths lead the Church and the Polish people into despair, but rather they continually renewed hope for both. Whether we are talking solidarity with Syrian and Iraqi refugees, the materially poor of our communities, black lives, or other marginalized, solidarity requires sacrifice. In our post-modern society, this idea of sacrifice and the thought of duty over rights seems counterintuitive. At the same time, now more than ever it is imperative that we carry each other's' burdens and position ourselves in solidarity with the poor and the marginalized. It is the only proven way to authentically and effectively confront hatred, corruption, and violence – in short, systematic sin. Most will not sacrifice their lives like Fr. Hamel, Bl. Jerzy Popiełuszko, and St. Stanisław, but all sacrifice no matter how big or small, will ultimately result in union with Christ and therefore bear fruit in hope, and sometimes even change: the change of hearts and the change of systems.
NOTE FROM EASTERN CATHOLIC PERSON: The patronage of saints 'for those oppressed and even killed by corrupt governments' can also be found in the Byzantine traditions of Kyivan Christianity in the persons of the Passion-Bearers Borys and Hlib, killed while refusing to take power from their ambitious older brother Sviatopolk. While Borys and Hlib certainly were not priests like St Stanisław, Bl Jerzy, Fr Hamel, and Bl Oscar Romero (and St Thomas Becket, to round out the list), their willingness to go into death instead of taking power – and therefore exposing the violence of the powers that killed them – is also a profound sharing in the Passion of Christ.