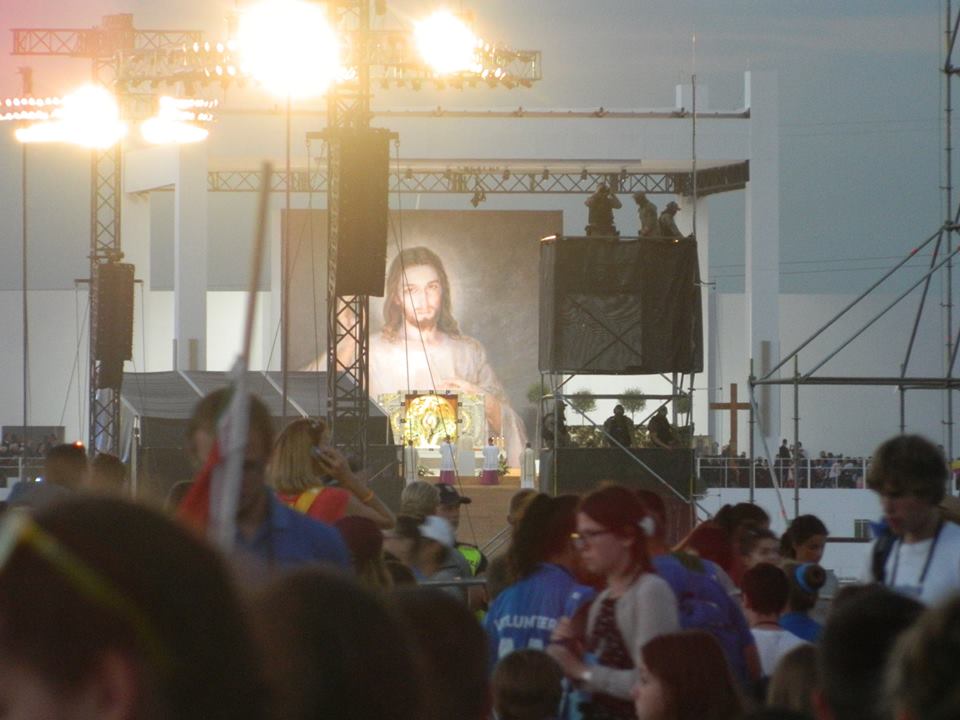 I knew it. The real World Youth Day reflections are finally coming out.
While World Youth Day was happening, I wrote that I would not be able to 'chase this ambulance' because I'd have to write about it over the weeks and perhaps months afterward. I also said that the 'immediacy' of the whole thing via social media had to be called into question because sometimes electronic devices don't have data, or worse, run out of batteries. After all, I watched Eugenia Geisel's comments on 'the perfect combination of sacrifice and just sheer joy and bliss' long after the video was taken at the Mercy Centre.
Now another friend who was at the late night beer session in Kraków into which I was skyped has written his reflections. His name is Lawrence Lam, and he, like Eugenia, is also a Latin Catholic Person, although the fun fact is that I met him in the context of a conversation about Eastern Catholicism that was pivotal in my turn eastward. As a good Latin Catholic Person would, he's written up his reflections on the Divine Mercy and the ordinary supernatural at World Youth Day for Serviam Ministries.
Here's a snippet:
"Jesus I trust in you", is the subtext to this year's World Youth Day theme, "Blessed are the merciful: they shall have mercy shown them" . For it was St. Sr. Faustina in Krakow, where WYD was hosted that made the title three words world-famous. Krakow is a great city of Saints who showed us regularly how to depend on God's mercy for the outcomes of our lives. Participating in this year's WYD, I was reminded and struck by the many examples around me…

My landing flight to Krakow was cancelled and I was reassigned to the subsequent flight. Two other passengers were Sisters of Life. They, unfortunately were not assigned a seat. Through their hard prayer, I witnessed a snafu in the boarding process cause the airline to resort to extraordinary measures to allow two more seats to be allocated to the sisters so that they could make it to Krakow in time.
One day I will write up my reflections on the Divine Mercy and what I think are some interesting parallels with Byzantine theology – I've hinted at them in one of my Pope Francis posts – so I feel like this is another good Latin Catholic Person link to put on Eastern Catholic Person. Perhaps some day I will also write about watching some Latin Catholic nuns that I met break out into exuberant joy as they were learning about Eastern Catholicism.
I'll have more stuff coming out on World Youth Day in a bit – including more of Eugenia's guest posts in her series Retracing My Footsteps in the City of Saints – but I thought it was pretty cool that persons that I know are publicly reflecting on World Youth Day.