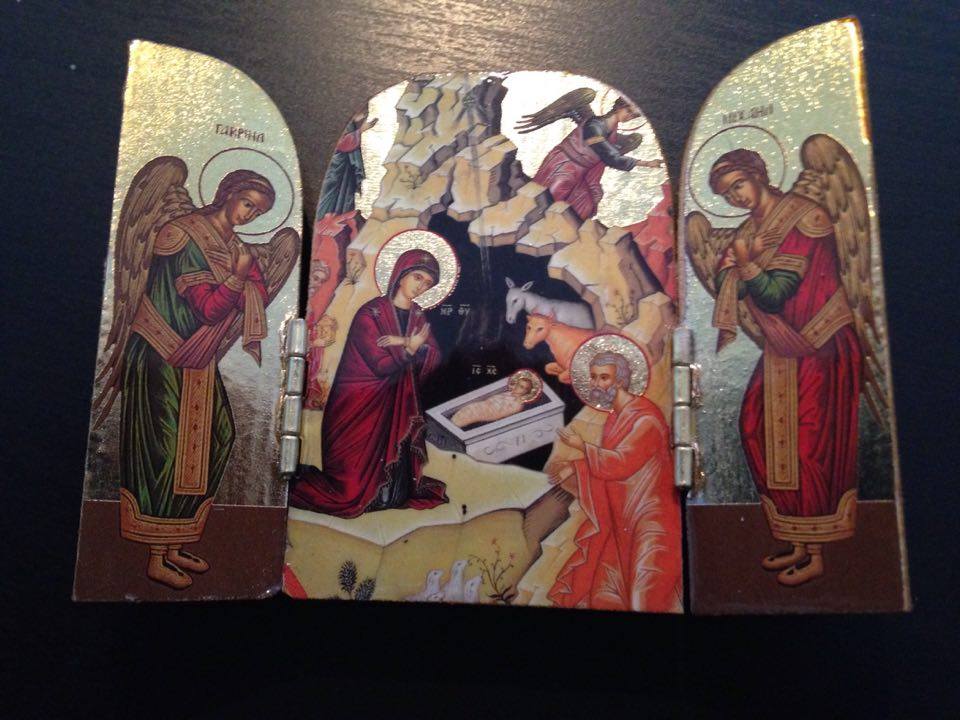 A Byzantine priest told me recently that Nativity is not as great of a feast as Theophany, which for us on the Newer Calendar comes on January 6. Theophany, he said, was Christ's public revelation to the world, whereas Nativity wasn't that big of a deal when it happened. I mean, who really knew about Nativity at the time? he was saying. Wasn't it just a couple of shepherds and three guys from China?
I think I like that. For all that has been said in the past on 'the war on Christmas' and for all that I polemicized in my last post about the post-truth nations submitting themselves to the G-d who walks among the poor, Nativity is supposed to be a little bit of a secret.
I think the parishioners at the temple where I was chrismated implicitly know this. I've written previously about how I struggled with the Latin rosary in my Anglican past enough to really enjoy meditating on the Nativity, so after my spiritual father thankfully took me off that devotion (it really wasn't working for me – too much mental multitasking), it was good of my parishioner friends to get me an icon of the Nativity so that I could continue contemplating this event without the rosary.
As they gave me this icon, they told me that it was a portable icon that opens up into a kind of three-panelled screen. Portable icons are very useful, our temple's cantor told me, especially when you are traveling. This one, he said, was particularly useful because you can close it up to keep it from getting scratched. At this point I had not yet opened it, so they told me to open it. I was stunned to see that it was an icon of the Nativity, and I quickly venerated it. That's when they told me that this meant that I could take the Nativity with me everywhere.
I usually keep this icon in my icon corner. It's the smallest one I have in there, so when I kiss them all after morning prayers (this is just something I like to do to start the day off right), sometimes I forget about this one. I do usually remember it during my prayers to my guardian angel, though, because it so happens to be the only icon that I currently have that has angels in a prominent position, even if the angels displayed are the Holy Archangels Gabriel and Michael and not my own personal guardian.
Forgetful as I am about it at home, I always bring it with me when I go on trips. I had it with me, for example, on my trip to see the consecration of St Elias Brampton, and I always remember to pack it especially for academic conferences. On this most recent trip back up to Vancouver, it really came in handy: a Chinese evangelical friend of mine who is very interested in Eastern Catholicism had his house blessed, but doesn't have any icons yet. I remembered as we were about to start Vespers that I still had this icon in my bag (we did a full-on Byzantine daily vespers service in his house before the blessing) and put it up on their fireplace mantelpiece. In fact, I forgot about it, left it there, and before my friend went away for a short trip, he gave it to my spiritual father, who delivered it to me right after the Little Entrance during a recent liturgy (he came back out of the deacon door and personally handed it to me). For some reason, that particular moment felt very meaningful to me at the time, but I still can't put my finger on what meaning it had exactly.
What I liked immediately about the icon is that the cave looks like it's in a mountain that looks a little bit like Sinai. Obviously, I am free-associating here – it could easily have been Tabor or Zion or the Mount of Olives too, as mountains are terribly important in Byzantine iconography and spirituality – but at the moment I first saw this particular icon, it reminded me of the icons of the Holy Prophet Elias. In fact, my friends will remember that it took me a little while to discover that it was the Nativity that was being displayed because I was so sure this was about some desert encounter on a mountain. What I learned since receiving this icon is that all the icons of the Nativity sort of look like this.
Going off my free associations, the secrecy of the Nativity really begins to shine.
But G-d was not in the wind
, the writers of Kings tell us about Elias on Horeb.
G-d was not in the earthquake. G-d was not in the fire
.
G-d, as I learned even when I was an evangelical, spoke to Elijah (as it says in my still beloved King James Version) in a still, small voice. The great hesychasts of old, our mothers and fathers in the desert, knew this voice too; G-d is not in the noise, but in the secret place of the heart to which the hesychast must bring the 'intellect,' the 'soul,' the nous.
Christmas is often littered with condemnations about consumerism. These condemnations, I've found in my own experience, don't really put the Christ back into Christmas or help us to remember the reason for season or make Linus appear out of nowhere to read the second chapter of Luke's Gospel to Charlie Brown; they simply induce guilt and more consumerism.
But the point of the Nativity is that it is secret, and as the icon accompanies me in my travels, it is often placed in the secret of my hotel rooms or in a side pocket in my bag; it is so secret at home that I sometimes even forget to kiss it when I kiss my other icons. And yet it is in such secrecy, I am starting to think, that I am supposed to hear the Nativity as the very Word of G-d. Long ago, the writer to the Hebrews says, God spoke to our ancestors in many and various ways by the prophets, but in these last days he has spoken to us by a Son, whom he appointed heir of all things, through whom he also created the worlds. He is the reflection of God's glory and the exact imprint of God's very being, and he sustains all things by his powerful word. On the Holy Mountain, the Holy Prophet Elias heard the voice of G-d as a still small voice; before Elijah on that same Holy Mountain, the Holy Prophet Moses heard this voice out of the bush that burned but was not consumed. If in these days G-d speaks to us by a Son, then it is in the cleft of the rock as depicted in the icon of the Nativity that the still small voice of the living G-d is whispering as a baby wrapped in swaddling clothes lying in a manger.
But I am not very good at hesychasm. I do not retreat into the desert to make it a city, and while I have been taught spiritual discernment by Eastern Jesuits, I am not very good about turning the city into a desert either. G-d himself dwells within me, but I often have trouble bringing my nous into my heart to meet him there and to hear his voice.
So in this secret encounter with the still small voice of G-d in the Nativity, let me (as before when I prayed the rosary) approach the Most Holy Theotokos to ask her what she is pondering. Let me travel with her on this pilgrim journey to the New Jerusalem; let the icon of her having given birth to the Son of G-d be not only carried in my bag, but written on my heart. Maybe she, the fulfillment of the prophetess Miriam, will tell me what I am supposed to hear, and by her guidance, perhaps one day finally my heart will be still enough to ponder with the Theotokos what it means that angelic choirs announce the birth of the Son of G-d, shepherds are going through town giving glory to G-d, and the Nativity is still very much still a secret.
God is with us! Understand, all you nations! And submit yourselves! For God is with us!