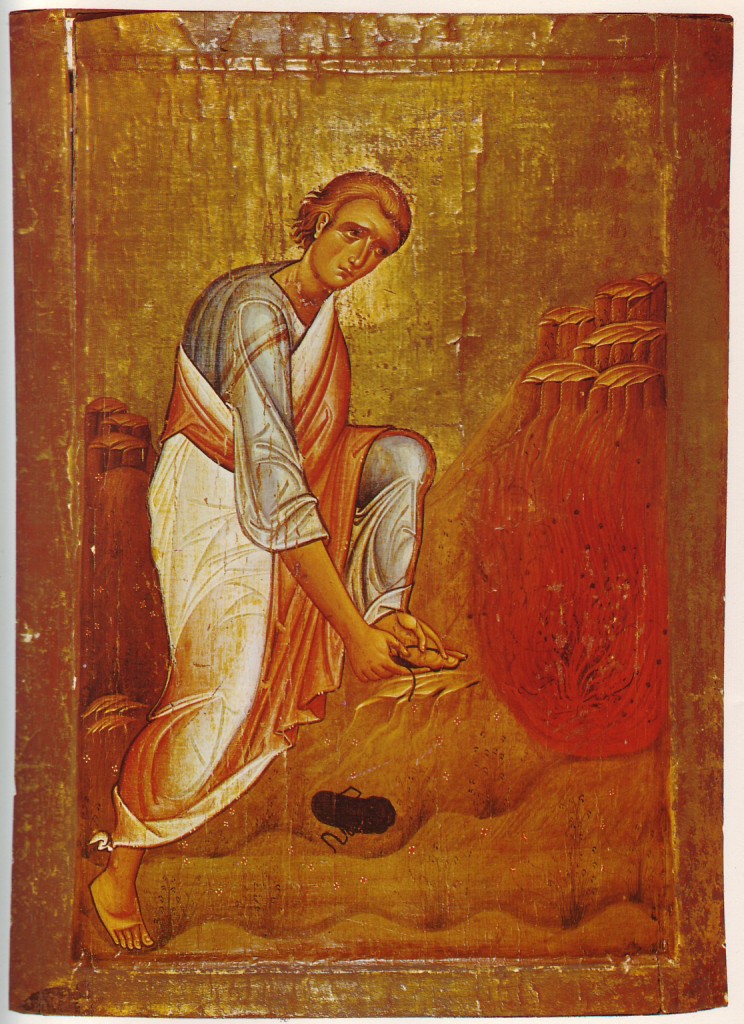 I feel like I have been basking in the Uncreated Light of Tabor on this Sunday of Holy Gregory Palamas. It's been a rather charismatic day for me: when I took communion today, I felt a deep sense of G-d's presence within me, and it reminded me a lot of the charismatic moments that permeated my life even before I became Eastern Catholic.
Spending the day re-reading part of Palamas's Triads, I found even more surprising insights about hesychasm and the body. It turns out that Palamas himself writes about the charismata, the experience of the divine presence that works wonders through the material body. This is because one of the main objections to hesychasm, it seems in the Triads, is that the soul will be 'nailed' to the body, filling the soul with 'darkness' (Triads, II.ii.12). Replying to this, he says that the recollection of the soul (the nous) into the body is actually the way that G-d unites himself to us, which means that the body will not be filled with darkness, but with G-d's light. In such a way, the body, which was once enslaved to sin, becomes united to G-d, set free from sin, and deified.
What this means, Palamas says, is that it is in the body that the Spirit works to manifest his charismatic works. 'What of Stephen, the first martyr,' Palamas asks, 'whose face, even while he was yet living, shone like the face of an angel? Did not his body experience divine things? Is not such an experience and the activity allied to it common to soul and body?' In other words, the Holy Martyr Stephen was not transported out of his body to meet the Lord; his body was already shining with Uncreated Light before his martyrdom – this is the charismatic work of the Spirit. And thus: 'Far from nailing the soul to terrestrial and corporeal thoughts and filling it with darkness, as the philosopher alleges, such a common experience constitutes an ineffable bond and union with God' (Triads II.ii.12).
The same deal goes for the gift of tongues: at Pentecost, the Holy Spirit 'did not give them ecstasy, did not ravish them to heaven, but endowed them with tongues of fire, making them pronounce words.' Same with the Holy Prophet Moses: while engaging in intense mental prayer, G-d did not 'ravish' him, 'but directed his attention towards his visible staff, conferring great power not only on his soul but also on his body and arm' (Triads II.ii. 14).
It is thus not for no reason that when I describe my Eastern Catholicism to my friends who are not in the apostolic churches, they tell me that it is as if I am more Pentecostal than the Pentecostals. In fact, one respected liturgist once told me privately that he loves Pentecostals because they sing loudly and sometimes facetiously threatens his people that he will leave them and become a Pentecostal minister if they don't cooperate and sing loudly through the Divine Liturgy.
It is here, I think, that the Holy Spirit demands a kind of ecumenism from us. As I kept saying last week, I spent the weekend hanging out with Asian American evangelicals at a weekend retreat. One of the evangelicals at the retreat said to our group that while I often seem to say things facetiously and even left evangelicalism to become Eastern Catholic, the sense he gets from me is that I really care about G-d and that is why I do everything that I do. Being a terrible hesychast whose confessors would tell you if only they could break their seal (but they can't! haha!) that my prayer life is a complete mess, I do not really see myself in this description, but perhaps what my evangelical friend senses is that beneath all of the schismatic messes we've gotten ourselves into, it is the same Spirit who fills our bodies and unites us through Jesus Christ to the Father of mercies.
It is in the arena of the charismata that I think I feel the most joy and the most pain at the separation of Christians. The joy is that we are filled with the same Spirit and can thus walk together in prayer and even intimate fellowship, sans communion. But the pain is that that most intimate mystery, the material taking of the Lord's body and blood into our bodies, cannot be shared among us even though it is that same Spirit that descends upon the gifts in the epiclesis, changing them into the body and blood of our Lord Jesus Christ. One might object, of course, that my Protestant friends do not have an epiclesis; my reply would be that they do not have an epiclesis at the Eucharist, but what is with all these charismatic songs asking the Holy Spirit to 'rain down' and for the Lord's 'glory' to 'fall'?
The great irony is that we cannot share communion, but we can share in the Spirit, and the irony is even more pronounced for us Eastern Catholics with our Orthodox sisters and brothers who do indeed have an epiclesis at the Divine Liturgy – the same one as ours, in fact! – and yet we are not able to share communion with them. The joy is in the Spirit; the pain is also in the Spirit.
And yet, it is this Spirit that fills us all. I am reminded of this because as my wife and I searched for a church to attend as Protestant Christians in Seattle, we sang the same song three weeks in a row: Hillsong United's 'Oceans (Where Feet May Fail).' The first week, we were at a social justice-emphasizing evangelical church where a gospel choir let loose with their rendition; the next week, we were at the evening service of a large Protestant congregation where the lead singer of their worship band belted it out; and finally, we ended up at the Catholic Newman Center where a small worship band led the song through the offertory as the gifts were being prepared. We ended up being regular Protestant attendees at the Newman, which is where I started hanging out with a bunch of Polish Dominicans, including one who turned out to have Kyivan roots and whose spiritual direction arguably sent me down the Eastern Catholic path.
There are many parts of the song that I could unpack, but the bridge goes:
Spirit, lead me where my trust is without borders
Let me walk upon the waters wherever you would call me.
Take me deeper than my feet would ever wander,
And my faith will be made stronger in the presence of my Saviour.
Perhaps it is because the Assemblies of God as well as the Foursquare Gospel Church and the Jesus Movement that came out of Calvary Chapel lies in my background, but I find nothing wrong with this Pentecostal pneumatology, much as I would beg to differ from Hillsong's Christian triumphalism and pro-establishment political theology tendencies. After all, as a Pentecostal sister reminded me, part of the beauty of Pentecostalism is the ecstasy that renders words meaningless and political origins irrelevant; a charismatic song can legitimately be used for whatever ideological and theological purpose, which is why I am conscious that I must be sparing in doing so, but this is one time where I feel like being – in Pentecostal terminology – lavish and extravagant.
Is it not the case, then, that to ask for the Spirit's charismatic leading into unfamiliar waters across borders articulates precisely the movement toward ecumenism? Is this not to address head-on both the joy and the pain of sharing in the Spirit across schism? Is this not to ask for the Spirit to descend on our bodies as we engage in mental prayer to divinize our bodies and join us to the intimacy of the Father? Is this not why it was possible for three such different churches could sing the same song and why even as an Eastern Catholic in whose church this song would never be sung I am still thinking about those three weeks even as I relive my catechumenate on this second Sunday of the Great Fast? Is this not why when I was an Anglican and prayed in the Spirit with a Filipina Catholic nun that she said she saw the Most Holy Theotokos standing next to me and asked me to give myself to her maternal love?
And thus as the Sunday of Holy Gregory Palamas concludes, I find myself praying with the great friend of the Eastern Catholic churches, Pope St John Paul II, as he did in Victory Square in Warsaw when he asked the Spirit to break down the ideological barriers that divided the Polish people from the Catholic Church:
Niech zstąpi Duch Twój! [Let your Spirit descend!]
Niech zstąpi Duch Twój! [Let your Spirit descend!]
I odnowi oblicze Ziemi. [And renew the face of the earth.]
Tej Ziemi! [This earth!]
Someday I will write about the impact that John Paul II has had on my encounter with the Spirit and what that has to do with my understanding of solidarity and social justice, leading me to Eastern Catholicism and an insistence on communion with Rome as a Byzantine Christian. But today as I relive my catechumenate, allow me to reveal that concelebrating my chrismation was a Polish Dominican – not the one with the Kyivan background, but the one who has whole passages of Aquinas memorized – and as I prostrated before the Gospel book after being led into the sanctuary on the ends of my spiritual father's epitrakhil, I heard him declare over me, Send forth your Spirit, and they are created, and you renew the face of the earth – he told me later on that he did everything he could to channel his inner Wojtyła as he called me into Orthodoxy-in-communion-with-Rome. My evangelical and charismatic friends who came to celebrate my chrismation told me that at that moment, I looked like I had come home and was perfectly at peace. This church, the Greek-Catholic Church of Kyiv, is indeed the house to which I belong; may it be said that the Spirit that dwells in us will work his mighty deeds and do the impossible of bringing all of the children of the living G-d into the same oikoumene!
Come, Holy Spirit, fill the hearts of your faithful, and kindle in them the fire of your love!