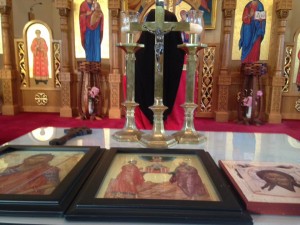 The day after my chrismation – on the proper feast day of Ss Peter and Paul – I was driving, and I had a sudden feeling that I needed to be a better husband. It wasn't in reference to anything big; marriage, after all, is about the small things. But it was also the first sudden resolve of holiness I had after my chrismation, so I think it was a pretty big deal.
I noticed that the gas was running dangerously low, so I stopped at the nearest gas station. The gas stations in Richmond, British Columbia – quite unlike the rest of the province – are required to be full service. It was thus that the attendant approached my car and asked for my points card.
I replied that my wife had it. He shrugged, and we got the pump going.
Then he came back to my window. 'I have a question for you,' he said. I looked up, not sure what I was going to hear. Then he asked: 'Do you ever fight with your wife?'
Sometimes, I said. I was thinking that that would be the correct answer.
Then he laughed. 'We all do! My wife, she lives in India, even here, she controls me! Your wife control you too, yeah?'
It's how love works, man, I replied.
'YES!' he shouted. The gas was done filling up, so we had a good laugh. Shortly afterward, I picked up my wife from work and told her about what had happened. We also had a good laugh.
I don't want to presume too much on the Holy Spirit to say that this was definitively a divine encounter, but it sure does feel suspicious.
This is, after all, what it means to be Catholic. Catholicism is not an identity; that is far too static of a way to put it. To be Catholic is enter into the depths of love, to encounter my fellow person at the level of communion, to premise universality with personal charity. In this sense, the Latin Church is Catholic, but so is the Kyivan Church; we are Catholic because the love works itself out as a practice of universality in our prayer and worship. It is not an identity; it is fire.
All that I mean to say when I became Catholic, then, is that I entered into something that made me experience what it means to fall in love at a much deeper level. In such a Catholicism, the traditions and the ecclesial autonomy are simply there to ensure an ever-deepening practice of love; as Cyril Korolevsky put it in his critique of 'uniatism,' the problem with trying to latinize traditions that aren't Latin is that the point of latinization has never really been to develop a hybrid universality. It's rather saying that only the Latin tradition is universal, and all the other ones are inferior – and what's worse, this attitude usually doesn't come from the Latin Church, but by Greek Catholics with chips on their shoulders. This is not Catholic love, because Catholic love would be to say that both the Latin and Kyivan Churches are Catholic just as they already are, and in this do we share full communion at a much deeper, primal, ontological level despite the outward appearance of difference.
Let me now, then, on this Feast of Ss Peter and Paul, holy chief apostles by whose martyrdom of love the place of the church of the God-saved city of the First-Rome was cemented, express this love in full appreciation of the church that I am not canonically part of, but am in full communion with. For me, this Latin hymn expresses everything that I feel about what it means to be in full communion with the Latin Church while retaining my autonomous Byzantine practice within the Kyivan Church, seeing both churches as Catholic, both in full communion with each other, both practicing the acts of love that spill out into service to the world:
Ubi caritas et amor, Deus ibi est.
Congregavit nos in unum Christi amor.
Exsultemus, et in ipso jucundemur.
Timeamus, et amemus Deum vivum.
Et ex corde diligamus nos sincero.

Ubi caritas et amor, Deus ibi est.
Simul ergo sum in unum congregamur;
Ne nos mente dividamur, caveamus.
Cessent iurgia maligna, cessent lites.
Et in medio nostri sit Christus Deus.

Ubi caritas et amor, Deus ibi est.
Simul quoque cum beatis videamus,
Glorianter vultum tuum, Christe Deus:
Gaudium quod est immensum, atque probum,
Saecula per infinita saeculorum.

Amen.