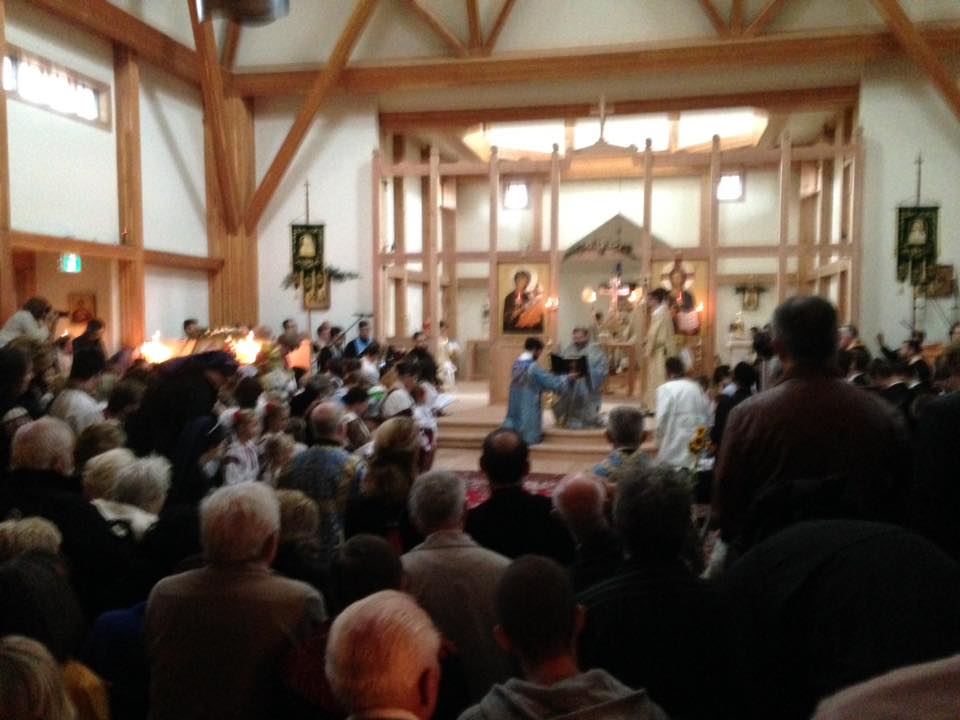 On September 30, 2016, I got on a Greyhound from Chicago up to Ann Arbor. A Byzantine Catholic friend had promised to drive me up to Brampton, Ontario from there, and that night, his family and I packed into a car and made the trek up to Canada.
We were in Brampton to attend the consecration of St Elias Church. My spiritual father had a lot of history with that place; it has long been the heart of liturgical reform in the Kyivan Church, with its pastor Fr Roman Galadza's service books as standard issue for Eastern Catholic missions, including ours in Richmond, from which I borrowed in the Huckleberry Finn sense for my spiritual life in Chicago. In 2014, the temple had burned to the ground because of an accident with improperly disposed incense. By 2016, it had been rebuilt. The Patriarch had come in 2014 to visit the remains of the old temple; then and there, he had promised to come back to consecrate the new one when it was rebuilt. True to his word, he came.
The consecration coincided, probably on purpose, with Pokrov, the Feast of the Protection of the Most Holy Theotokos. While I was still in my catechumenate, my spiritual father had told the story: as Constantinople was besieged by 'Ukrainian pirates' (that's what he called them), the Theotokos descended from the dome of the church of Blachernae, walked to the ambo, prayed in tears, and took off her mantle to spread it over the people. Soon, the city was saved, but what's more, the 'Ukrainian pirates' were converted soon after and then took this feast way more seriously than the Greeks who were saved. There is some tasteful irony, he suggested, in the aggressors celebrating their own defeat.
My spiritual father had discussed my coming since that summer. I had freshly moved to Chicago, after having been freshly chrismated on the Vigil of the Holy Apostles Peter and Paul that June. A pilgrimage to St Elias was in order; it would be part of my mystagogy, an opportunity to soak in the best of the liturgies our church has to offer.
Our Ann Arbor crew arrived too late for the Vigil of the Protecting Mantle, but my spiritual father, along with a bunch of Eastern Jesuits who are regulars at St Elias, picked me up from the hotel the next morning. We arrived in a church that was quite bare, and my spiritual father had me go behind the iconostas before it was consecrated just to check it out. Before I knew it, I was downstairs in the sacristy, and I was holding in my hands a tray with the patriarch's robes. A rehearsal for the vesting of the Patriarch commenced, and I will not say too much about who was mock-vested, except that he is known in our circles as the 'boy wonder' and that if that moment was prophetic, you heard it here first.
By this time, the temple was packed. We herded in, and then we were told to go outside to meet the Patriarch, and when we came back, we found ourselves stuffed in like canned sardines. To commence the consecration, the Patriarch knelt in prayer and everyone with him, except the 200 of us who were crammed in the back; we couldn't breathe, let alone move.
Eventually, I got myself out of that jam and found myself able to sit somewhere on the ground to hear the Patriarch's homily. He expanded on the Pokrov, speaking of the Oranta in St Sophia's Cathedral in Kyiv who is known as the Immovable Wall; as long as her hands are lifted up, he said, the city will not be taken. It is this conviction, he continued, that made him make that promise two years before to come for the consecration; the truth was, he admitted, that he could not have known whether or not he would be able to make it back as it had just been after Maidan (in which he was involved in a very public way), the Russian annexation of Crimea had just happened, and the 'war of disinformation' (as he frequently calls it) may well have led to his bodily harm. And yet, here he was, preaching to us about the Protecting Mantle of the Theotokos and the Oranta of Kyiv, imprinting in our hearts that these images should mark our spirituality.
The consecration happened, and then it was time for lunch. Over lunch, my spiritual father introduced me to many of the people who were the stuff of legend for me in the Kyivan Church, the pioneers of liturgical reform, theological recovery, and spiritual practices of wisdom. Some told me that they had read my blog; one even offered critical feedback.
Eventually, I found myself taken to the rectory, which is on site. More food, drink, and conversation followed, and then it was time for Vespers. Standing with the basses, I began to hear what Vespers really is supposed to sound like. It wasn't at all like me trying to eek out the numes in the Galadza booklet; the service came alive, and it has since become my favourite.
The next day, I was back for Divine Liturgy. By this time, my feet hurt; unlike our temple in Richmond that has pews I can at least lean on, St Elias is all hardwood floor with no pews. It should be said that I am a wimp whose feet have been flat from childhood and that when my third-grade teacher described feet as having arches in health class, I raised my hand in confusion as I had never seen an arched foot in my life. Later, I learned that this is why my feet would get tired, which makes the liturgical reforms of the Kyivan Church to get rid of pews and stand freely in the sanctuary a true form of ascesis for me.
Service ended, the priests serving communion somehow knew my name, and then I was back in the rectory. Somehow – and I don't know how this happened – I have a mental picture of my spiritual father sitting across from me on the patio making a chotki, a prayer rope. Next to me is one of our church's monastics wearing a klobuk. On the table is a special kind of brandy we found somewhere in the house, and the monastic and I are feasting on it and getting increasingly animated while nerding out to obscure theological trivia as my spiritual father is rolling his eyes. Suddenly, a car pulls up, and the Patriarch walks out of it. HELLO PATRIARCH, we scream a little too loudly. No pictures, Patriarch replies.
Eventually, we are driven to a banquet hall, and I get seated with the monastic's friends, who all turn out to be conservative pro-life activists. Gingerly, I tell them that I teach Asian American studies, and we start talking about everything except for politics, which is a relief because I do not really feel like getting into the consistent life ethic of the New Pro-life Movement with them. Soon, the food is served, a contest is announced for folks to sing all kinds of silly versions of Mnohaya lita (God grant you many years), and the Patriarch gives a hilarious speech about Fr Roman in which he recounts discovering upon rooming with him once that the man's musicality extends to snoring symphonically.
The whole while, it turns out that my spiritual father had been seated with the Patriarch, which I'm told made for some interesting conversation because it's always interesting to have Chinese people in the Kyivan Church. As the banquet came to an end, my spiritual father motioned me up to the table. The room had broken out into the traditional It is truly right to bless you, O God-bearing One, sung so very slowly and hauntingly in Ukrainian that I have come to try to imitate that in English during liturgy.
And then my spiritual father turned to the Patriarch and gestured toward me. This is the first fruit of my ministry, he said. The Patriarch held out his hand to shake mine, but instinctively, I held mine out for a blessing. This seemed to take him aback a bit; maybe I had been better catechized than even I realized. He gave the blessing, I kissed his hand as the icon of Christ blessing me, and he held onto my hand and said: Justin, I want to personally welcome you into our church.
I am under the omophor of my Patriarch. The Kyivan Church is my home. The mantle of the Theotokos who holds her hands up in prayer as the Immovable Wall covers me. In the beautiful chaos of this gathered people, I have found mercy, salvation, and protection. This is what Pokrov means to me.
I realize I am a little late in writing, as Pokrov on the New Calendar is October 1. My only justification is that the celebrations at St Elias also took a few days, and I left Brampton on October 3 last year after yet another lunch at the rectory. The consecration videos can all be found on the website of St Elias Church.