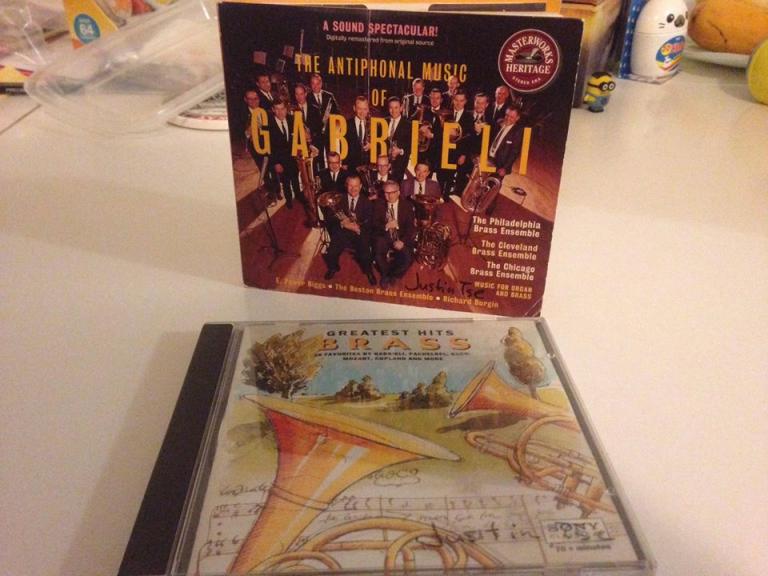 When I was nine, the music teacher at our Christian school told us that we should think about joining the school band. There were lots of instruments we could play, she said – flutes, clarinets, saxophones, trumpets. My dad played the clarinet, so I didn't want to do that, and flutes were for girls.
But trumpets sounded cool. Having grown up on Hanna Barbera's Greatest Adventure Bible films with the three cartoon archaeologists who get transported into biblical times, I had come to love the scenes with the trumpets, usually announcing either the entry of the king or – in a much more exciting way – a call to battle. I wanted therefore to play the trumpet, and I knew that I'd have to convince my parents. My mom had said when she started me on piano two years before that she wasn't interested in me being a professional or winning competitions. Instead, she wanted me to use music to serve the Lord. When she objected that I already played the piano, then, I had a comeback: the Lord is calling me to the trumpet.
And so it was that I began to play the trumpet in addition to the piano.
It was a bit of a miracle that I could even make a sound. I spent the first three weeks on the school trumpet unable to get anything out of that horn. I tried everything. I buzzed harder. I blew harder. I emptied the spit valves and pulled out tubes. Nothing seemed to do it. I surrendered the instrument to the music teacher and spent a night in prayer. The Lord then revealed the problem to the music teacher. My valves had been inserted into the tubing backwards.
Being glad to be able to make a sound, I didn't think about what kind of sound I'd be making. The music teacher told me that first year that I sounded a bit too brassy. Isn't that what a trumpet is supposed to sound like? I retorted.
It was the age of the CD player at that time. My father, ever late to technology, finally bought us a machine that could play cds as well as the cassettes I had grown up with, and having now had the proper infrastructure to listen to music that we could easily purchase, he drove us down from our home in Fremont to a town called Milpitas. Milpitas was in the middle of experiencing an economic boom at the time. Having once been known for its garbage landfill, a Chinese supermarket called Ranch 99 Market had moved in, along with a whole plaza of Chinese restaurants. My family wanted to try out the place, but I learned that there was also a Borders Books and Music nearby. It was, I was told, like Barnes and Noble, only with cds.
I was like a kid in the candy store when I got in. I rushed to the music section and tried to find something for trumpets. Quickly, I found two cds I was looking for. One was called Greatest Hits: Brass. The other was The Pachelbel Canon: The Canadian Brass Plays Baroque Music. I actually got the first one because it also had the Pachelbel Canon on it. My mom played that piece a lot for weddings. I also knew someone at school in the Advanced Band who could play it on his trumpet. I therefore bought both cds for the Pachelbel Canon. Of course, I also did not have any money of my own. What I therefore mean is that my dad bought them for me.
The curiosity that I had about brass playing the Pachelbel Canon was that I knew it as a tender, romantic piece. But the trumpet, I thought, was supposed to be brassy, loud, and slightly annoying. I didn't know how they could be mixed.
But as I listened to the two cds, I discovered that brass instruments could be formed into ensembles and choirs. The instrument could be brassy, but there was a way that these guys played that sang. I became obsessed. My friends started telling me that if I said the words Canadian Brass one more time, they'd find a way to shut me up.
A few years later, I walked into a Waldenbooks and discovered another cd. This one was called The Antiphonal Music of Gabrieli. By that time, I had listened to both of my cds ad nauseum, and I knew just enough to be dangerous. I knew, for example, that Gabrieli was a Renaissance composer who had invented the terms piano and forte to indicate loud and soft playing, and I knew that he installed choirs of people to sing in churches to create a surround sound effect. I also knew that there was some Gabrieli on the Greatest Hits cd. In fact, some of the takes on the Greatest Hits cd were directly pulled from the Antiphonal Music album.
But as I read the liner notes for this piece, I discovered that what I had been listening to on the Greatest Hits album had been nothing short of amazing. It had featured the brass sections of the 1960s of a few big American orchestras – Chicago, Philadelphia, and Cleveland. The legendary chops of Bud Herseth, the longtime principal trumpeter of the Chicago Symphony Orchestra, were on full display. They had made their schedules meet, and according to a tubist who was there, what had happened was that they had simply sat down, recorded a bunch of Gabrieli's Sacrae Symphoniae, and gone to the pub, whereupon they realized that they hadn't tuned but sounded fine anyway. It was from this album that I learned that pitch was relative, that tone was everything, and that playing chorally and antiphonally by simply listening to each other can solve problems usually resolved nowadays by more scientific forms of tuning.
I have been thinking recently of this album's impact on my life since I have become the informal cantor at both my Richmond and Chicago temples in the Kyivan Church. I am not a good singer by any stretch of the imagination, and I do not have absolute pitch. But the image of the people that I lead in singing often reminds me of this rowdy group of brass players drinking, smoking, and swearing, and I realized recently that I got this sensibility from listening to this album. Indeed, most brass players swear by this album as the mother of all brass choir and ensemble albums that have come afterward.
In an ironic twist, perhaps the Lord did call me to the trumpet. In a church that sings a capella, I may not be able to use either brass or keyboard to serve him. But playing the trumpet gave me my choral sensibilities, and if as Holy Ignatius of Antioch tells the Ephesians the church is a choir, then in some strange way, maybe I am still praising him with the trumpet.
I was nominated by our blog's former resident Latin Catholic Person, Eugenia Geisel, to do the Facebook Album Art Challenge. Posting the covers gave me some nostalgia that I wish to work through. I am therefore blogging about it too now concurrently. Perhaps Eugenia will do so as well on her blog, Lipstick on My Relics. This is the first of ten in the series.