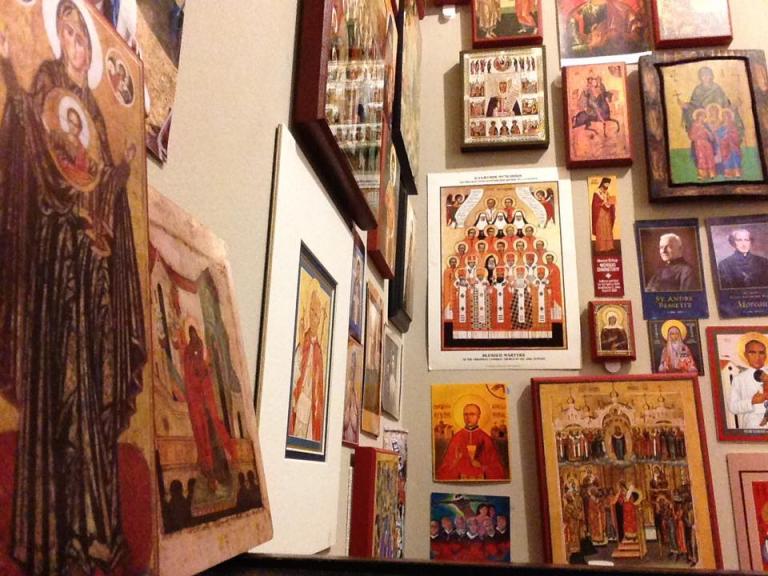 Last night, we did a Reader's All-Night Vigil service at our mission in Chicago. That is because today is the Feast of the Entrance of the Theotokos into the Temple.
I have to say, it was very mystagogically interesting. We do them this way because there are no services in English for this second of the Twelve Great Feasts offered to our knowledge in our church in this city. It's just me holding down the fort this time, so I tried to learn as much as I could from it. We're a peasant church, so parts of it are better than others, and someday the execution will be better. And true to form, we had a tech problem an hour and a half in too!
Here are the videos. The first is Vespers and Matins, up to the katavasia of the first ode of the Canon of the Theotokos, when Facebook Live had an error. Fortunately, I caught it, and the rest of Matins from the third ode of the Canon onward is in the second video.
I got a lot out of the services. It turns out that they are an extended meditation on the Ark of the Covenant in the Tabernacle and in the Temple, fulfilled in the person of Mary Godbearer as she is offered up in the apocryphal story by her parents Joachim and Anna. For an evangelical like me who grew up learning about typologies because of my dispensationalist background, this was a theological feast, a personalist correction to a number of my previously impersonal formulations of these themes. Most Holy Theotokos, save us! we say over and over in the Canon. She sure is saving me.
I'm beginning to understand why we have these Vigil services for the Feast. It's because during all of the Feast and then the postfeast season that lasts a week, I get to stew on all the richness I received in the lengthy prayers of the service. So I will let it steep, and maybe I'll have something to say when the leave-taking of the feast comes in a week. For now, though, the only reflection I have is that if the Theotokos is the Ark of the Covenant, confirmed in the readings and stichs of the All-Night Vigil, and if in a secular age that the philosopher Charles Taylor describes as 'cross-pressured' such that people at once think this typology is stupid and superstitious and they make and watch movies about it, then the truly modern icon of this Feast is the moving picture Indiana Jones and the Raiders of the Lost Ark.
Cue the music.