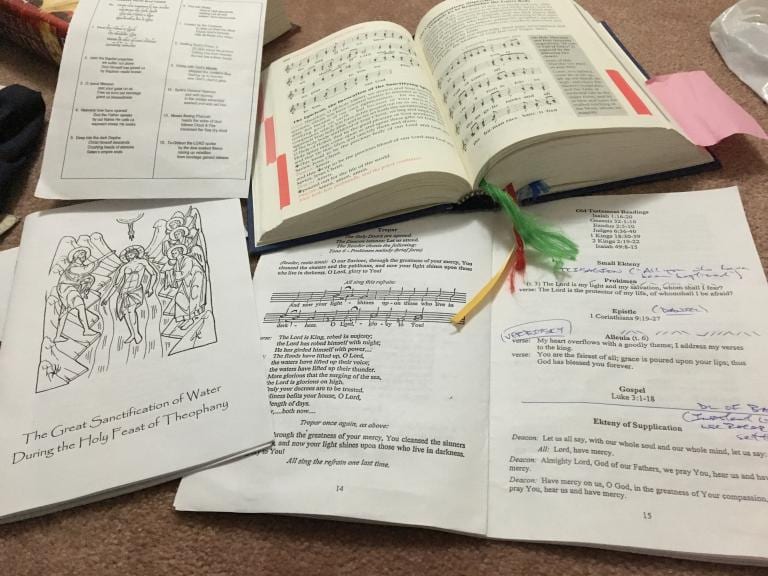 As this postfeast of Theophany this year continues apace, I recall my first Theophany celebration, which took place in Richmond on the evening of January 5, 2016. I still remember it. It was at the beginning of my catechumenate, which my records indicate began on December 5 the year before.
The truth is that I don't recall being very serious about the catechumenate at that point. It was more of a let's see how this goes approach. I definitely didn't want to be a Protestant anymore, but I wasn't exactly sure what I was becoming, though I had been attending the Eastern Catholic Church in Richmond since July 2015 when my wife and I first moved back to Vancouver from Seattle. In Seattle, of course, we had fallen in with the Dominicans, and when we came back, for some reason, we really could not go back to evangelicalism. The way we described it was that the 'emotional pitch' of the services seemed to produce for us a kind of contrived intimacy that would lead to oversharing. I suppose I have moderated my views now, as my relationship with evangelicals is of an ecumenical nature now, so I will add that however diverse evangelicalism might be, it is we who couldn't do it anymore.
The surprise for us was that I began to be attracted to Eastern Catholicism, even after finding a nice Chinese parish in the Latin Church that was close to our home that had the same features that attracted us to the Dominicans in Seattle. That parish has a choir that sings even the corniest of post-Vatican II guitar mass music immaculately, and we made a number of friends there. Part of why we felt obligated to check out the Eastern Catholic Church, of course, was that we had been convinced by my friends Lawrence Lam and Eugenia Geisel to give that temple that had hosted the Umbrella Movement retreat a try. But as I have said before, the music really was terrible that it might have been good — but only for someone who was trying to justify going back — and looking back I am not sure why I stayed. Really, my commitments were tenuous. Even after I started my catechumenate, I managed to skip Nativity Compline. I probably did not understand how endangered my status as a catechumen became at that point.
And so it was that I showed up at Theophany. I had been warned before. It was going to be a three hour service, and that was optimistic. There would be twelve readings at Vespers. They would do the Divine Liturgy of St Basil the Great, which has a lengthy anaphora taken in full. There would be a Great Blessing of the Waters, which would add another hour to an already long service. What I was not told was that it was probably not a good idea to stand next to people who were tone-deaf and participating enthusiastically in the service. Part of the reason the music at that point in Richmond was so terrible it might even be good was that nobody actually knew the Galician tones that we use. The markings in the booklets indicate generally when one might go up and down in pitch, but the truth is that nobody really seemed to know the melodies, so it was all just guesswork, even for the cantor (who was not me at the time), who was across the room trying to get us all to sing even though the people I stood with couldn't carry a tune. It did not help that the person standing next to me whispered in my ear at the most painful point in the service, Father's holy water really helps. My daughter had the flu. Nobody could cure it, not even the doctor. So I put some of Father's holy water in the congee — the one that Father makes. And within three hours, she was cured. I was not sure what to make of it, but I am fairly certain that one of our pre-catechumens at the temple who is obsessed with holy water heard the same story from this person and, since he has to travel for his work, has probably gone all over the Pacific Rim and beyond touting the magical medicinal qualities of holy water and how he drinks gallons of it to support his work and potential romances.
In any case, I think it's fair to say that the liturgy was absolutely going not well when my spiritual father appeared at the Royal Doors to give one of his sermonettes, short expositions to explain parts of the readings and the liturgy. He said, This liturgy is crazy. Who does this three hour service on a weeknight? If you keep looking at your watch, you will not survive this service. You have to give yourself to this service. Throw yourself in recklessly. Be consumed by it, and the time will pass much quicker.
I am not sure how I felt about that. I thought about how the next day was the first day of class at a local university in Vancouver where I was teaching a course in cultural geography. I didn't have my lecture fully prepared with all the scholarly material I wanted to present, along with the slides to go with them, and I was nervous that this liturgy was going to eat up my whole night and then I'd have to pull an all-nighter to present a competent lesson for a day that students might encounter and then drop because they didn't like me. I wasn't even that committed to this Eastern Catholic Church — I just wanted to become Catholic so that I didn't have to be Protestant anymore, and this was asking for way too much commitment.
And then I heard it from deep within me: I call you to teach. As someone who has gone through the highways and byways of the charismatic movement, I am deeply suspicious of these voices that might or might not be from God, but as the liturgy continued, I found myself inexplicably following my spiritual father's instruction not to look at the time, but to be absorbed in the music, even if parts were left to be desired. For some reason, this mantra kept repeating from within me, and I found myself using the prayerful atmosphere to reflect on what it meant to teach. It dawned on me further into the liturgy that I was probably focusing way too much on the form of the presentation that I was neglecting the act of teaching, that what it means to teach is literally to lead the students into this field of knowledge and to pose it as a problem to them instead of trying to indoctrinate them with what I was trying to prepare. I began to relax about the lecture. I started thinking of what it would mean to teach, to be personal in the classroom, to make it much less of a show and much more of a workshop in which students could engage.
The liturgy that night took three-and-a-half hours. But it felt much quicker after I felt the call to teach. I am not sure if I can say that I discovered my vocation within this church that night as an academic, though it is true that my catechumenate and mystagogy has confirmed by calling over and over to this secular work of maintaining an intellectual life engaging the postsecular in the publics of the Pacific Rim. Certainly, that conversation with the One who must have been the Lord within my heart was not the only discussion I've had with my spiritual father, my bishop, and others in my church about how it seems that I need the prayer of the Kyivan Church to sustain a career in the secular academy. But as I look back at that first Theophany, I discover in it a kind of breakthrough in allowing myself to feel something in the mystagogical practices of our church — I had been much more reserved before then, as my non-committal posture shows — and though I continued to deny my seriousness in participating in its ecclesial life until the Great Canon of St Andrew of Crete completely wore down my defences later that year, I would probably mark Theophany 2016 as among the first times I finally allowed myself to soak in the prayer of our church, out of tune as it was. It was really was so bad it might even be good, although now that the kleros and I know the tones, I'd say that we are invested in making sure it actually sounds good now.