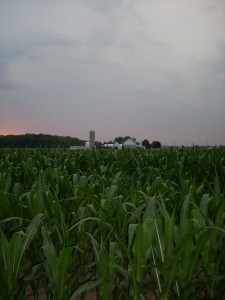 New York is where I'd rather stay!
I get allergic smelling hay!
I just adore a penthouse view!
Darling, I love you, but give me Park Avenue . . .
Like Eva Gabor's Lisa on the TV series Green Acres, I've always preferred the penthouse to the henhouse. A cornfield is a place that creepy Twilight Zone kid played by Billy Mumy will wish you into if you cross him. I've camped twice, once at Big Sur and once in Yosemite and both out of love for someone I was camping with, not for the experience of camping itself. I enjoy looking at landscapes in frames or out car windows more than hiking through them. One of the things I like about living in Southern Ohio, in contrast to Southern California, is the fact that wide open spaces and rolling green fields and high blue skies are available only minutes away from downtown—but it's not like I'm going to go out there and live or anything. I pretty much think of the countryside as there for my viewing pleasure.
So when my friend Michael invited me to tag along with him and two of his kids, and my friend Brian and one of his, to attend one of two Rural/Urban Masses the Archdiocese of Cincinnati celebrates each year in partnership with the Catholic Rural Life Conference, I thought it might be a good chance to stretch out of my comfort zone. Mass on a family farm in St Marys, Ohio, celebrated by Bishop Joe Binzer, our auxiliary, followed by dinner for 300—potluck sides and desserts, with fried chicken served up by the Knights of Columbus—sounded like fun.
Of course, I hadn't counted on the heat (97 degrees, bingo percent humidity) or the flies (present in biblical plague numbers and persistence).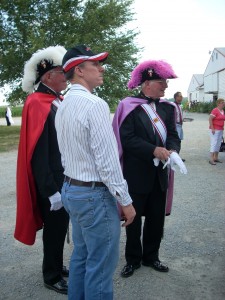 Halfway through Mass, held in a cathedral of a tool barn, I figured I was going to die for the Faith right there, melting away like Sambo's tiger or the pre-Wicked Wicked Witch of the West. I wanted to ask Brian whether the couple of flies I had inhaled counted as breaking my Eucharistic fast. What a wuss I am, I realized, just in time to say that aloud liturgically: O Lord, I am not worthy. Looking around, I noticed that the only people at the Rural/Urban Mass who were sweating or waving their worship aids like those holy fly whisks that are part of Buddhist or Byzantine regalia were the 8 or 10 of us who were urban. The rural folks paid it no mind—not even the Knights of Columbus in wool tuxes and satin capes, or the deacon in his dalmatic. Farm faith is tough.
Right at the
Agnus Dei
, a cold front rolled in from Indiana, riding a blissfully cool wind. So I didn't melt, and got to watch (and cry) as Bishop Binzer honored 16 families who'd been farming the same land for more than 100 years. The earliest Catholic farm honored last night first broke the Ohio sod in 1835. These roots go deep.
The food was terrific. The rain felt great. The hospitality was warm. The little kids loved the piglets. And as the sun set over the cornfields, I gave thanks—first, that I don't have to live on a farm, but more importantly that I share faith with people who do. I thought of the print of John August Swanson's Psalm 85 that hangs on my living room wall, and of the wonderful words of the psalmist who recognizes the hope God plants in the heartland, for all of us to harvest.
You once favored, LORD, your land, restored the good fortune of Jacob.
You forgave the guilt of your people, pardoned all their sins.
You withdrew all your wrath, turned back your burning anger.
Restore us once more, God our savior; abandon your wrath against us.

Will you be angry with us forever, drag out your anger for all generations?
Please give us life again, that your people may rejoice in you.
Show us, LORD, your love; grant us your salvation.
I will listen for the word of God; surely the LORD will proclaim peace
To his people, to the faithful, to those who trust in him.
Near indeed is salvation for the loyal; prosperity will fill our land.
Love and truth will meet; justice and peace will kiss.
Truth will spring from the earth; justice will look down from heaven.
The LORD will surely grant abundance; our land will yield its increase.
Prosperity will march before the Lord, and good fortune will follow behind.