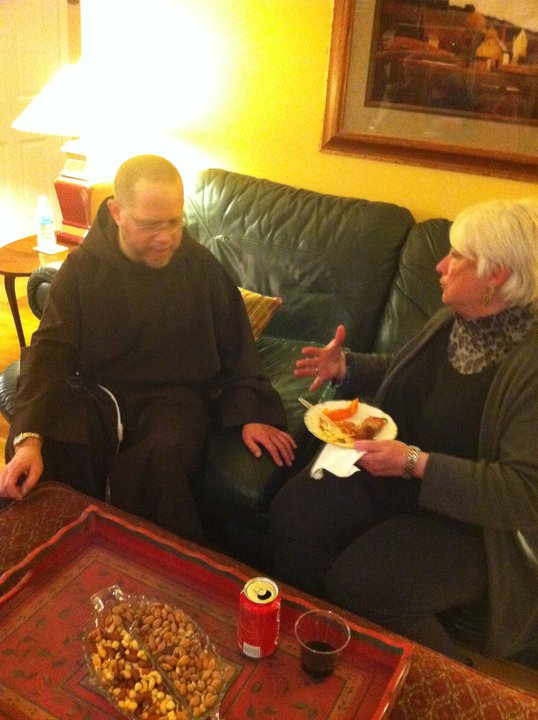 Just a brief post to share how happy it makes me that my friend The Hermit is also Kevin Lowry's (and many, many other people's) friend The Hermit.
Brother Rex—when I was first introduced to him, I thought he was called Friar X, which was the coolest religious name ever—is a diocesan hermit in the Franciscan tradition. He's got a wicked wit, as Kevin notes, and a profoundly holy prayerfulness by which I am borne up every day, as are the many he holds in intercessory prayer. As a Tiber swimmer from the Anglican communion, he has—like many a desert father before him—a keen sense of perspective about the institutional Church that helps keep me from freaking out more than I usually would, and he is unfailingly generous about passing along material that prompts posts. He works with young people, which keeps them laughing and inspired and keeps him sane and supplied with funny hats.
Brother Rex blogs from his Little Portion Hermitage with a choice bit of spiritual wisdom, drawn from Scripture and the writings of saints and scholars, presented for our consideration every day. Follow him here, and see if you don't agree that he has an uncanny ability to supply just the inspiration you are looking for or just the challenge you need to hear. And if you should find yourself in the way of having a few dollars to spare, please note that under Canon 603 diocesan hermits are responsible for supporting themselves. Brother Rex is a mendicant in the tradition of our Seraphic Father Francis, and receives alms gratefully.
Although based in Maine, Brother Rex occasionally travels ("I'm not an anchorite," he reminds me), so you too might get to meet him. He'll start recruiting you, I guarantee it, to join his Hermits United team, and if you've experienced a call to that life in even the stillest, smallest voice he will be your great resource and ally. But in person or online, once you encounter Brother Rex he will be, forever, your friend The Hermit. What a blessing!