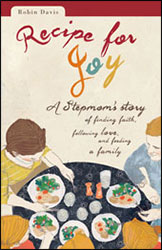 Recipe for Joy: A Stepmom's Story of Finding Faith, Following Love, and Feeding a Family
by Robin Davis
Loyola Press, 2013
We're all on a journey of faith, love, and family. It's a journey with detours and U-turns, scenic roads and midnight breakdowns. But whether in Emmaus or Columbus or wherever (as the airline pilots say) our final destination may be, when we come to ourselves it is always around a table.
I'm weighing in shamefully late, as in the very last hours, with my contribution to the Patheos Book Club roundtable on Robin Davis's wonderful Recipe for Joy. (My shame is earned and salutary, I hasten to add; see today's terrific posts from Elizabeth Husted Duffy and Dr Gregory Popcak for why.) But I didn't want my month-long struggle with blogger's block to keep you from enjoying Davis's culinary, spiritual, and marital autobiography—Eat, Pray, Love in real life—and from sharing it with folks who will find something in it to love and learn from. Which is, I think, everybody.
Robin Davis's U-turn took her from a high-profile job (James Beard Award-winning restaurant critic for the San Francisco Chronicle), a religious profile as a None, and a lifestyle free of the ties of marriage and motherhood to a new life back in the Ohio of her childhood, reception into the Catholic Church, and marriage to a widower with children. Recipe for Joy lays out the unfolding of this transformation in a series of chapters framed to reflect courses on a menu, each with a corresponding recipe.
Davis doesn't gloss over the bumps in the road—one of which, tellingly, was her own perfectionism and desire to present her blended family to herself and to the world as something as effortlessly gorgeous as a staged dinner-party photo in Bon Appetit.
Somewhere along the way, I decided that if I was going to do this stepmother thing, I was going to do it perfectly. Perfect is a dangerous word. It's full of expectations, most of which I've since come to believe aren't based in reality. Perfection as I'd perceived it precluded emptying oneself to become obedient to God's plan. Being perfect takes up an awful lot of space, and so it doesn't allow for that emptying thing to happen. . . . I allowed myself no leeway, no room for learning, or God forbid, mistakes. (p. 82)
But the joy that Davis brought to the table as an ingredient of her own soul bubbled up even on the worst days, and makes Recipe for Joy an optimistic, inviting read. Stepmoms—in particular the stepmothers of teenagers—have, I would imagine, one of the thorniest gardens to hoe, and will find in Recipe for Joy good company and a strengthening soup. Davis shares some of the fears she felt about "competing" with the memory of Grace, her husband's first wife and the mother of his children. I suspect the challenges are equally, if not more, daunting when the "real mom" is still in the picture. I know many stepmothers—my own son's among them—who have met those challenges with surpassing grace and a courage that often goes unrecognized and uncelebrated. If you know stepmoms (or stepdads) who have walked or are walking this road, slip them a copy of Recipe for Joy as a Mother's Day or Father's Day gift.
Foodies (and really, who isn't one?) will love Davis's rich descriptions of meals both real and metaphorical. The included recipes—born of the need to make high-end food family friendly—sound delicious and look doable. And it was a special kick for me to read about the Ohio that was part of my own opposite U-turning: Dayton, Cincinnati, Columbus, UD (Go, Flyers!), the particular gifts of the vibrant Church that flourishes there.
I also think it's important to add a Catholic voice (however late) to the roundtable on this very Catholic book. In "My Beef with a Delicious Read," Schaeffer's Ghost guest blogger Jennilee Miller expressed disappointment that there seemed to be so little about Jesus in Davis's account of coming to faith:
I kept thinking of this book as Strawberry Soup.  Strawberry Soup is one of my favorite first courses for a summer meal: sweet, cool, smooth, easy to consume and appetizing.  But nutritiously satisfying?  Maybe not. When we are talking about a journey of faith that brings someone to God, I'm eager to hear about Christ.  In "Recipe for Joy," there's barely any Jesus.  In fact, I think I made it over 100 pages before there was any mention of him.  There was a lot about murmurs of faith, God, the Catholic Church and growing prayers.  And, don't get me wrong: it's tremendously encouraging to read Davis's testimony of how God drew her to Himself.  Through difficult circumstances and changed desires, the Lord made Himself known to Davis and gave her courage and grace to walk in faith.

But, the path the Bible lays out is that Jesus Christ is the means to reconcile man to God.
Of course that is true for Catholics, too. But as Robin Davis's book so beautifully testifies, Jesus is not separate from his Church and his people. We encounter him, and come to know his Father, in his Church, in the Scriptures, in the Sacraments, in his people. Recipe for Joy has a 3-part subtitle, but in truth the process is not sequential: we find faith, follow love, and feed our families all at once and inseparably. And without meeting Christ and allowing ourselves to be met by him in faith, love, and the community of a family (by which I mean the openness to be vulnerable to others on a daily basis, to serve and nurture them as we find them), it's all Strawberry Soup. Only with them is it Eucharist, the wedding feast of the Lamb.
We don't always know it when it's happening. "And it happened that while they were conversing and debating, Jesus himself drew near and walked with them, but their eyes were prevented from recognizing him" (Luke 24:15-16). The deacon who prepared Robin Davis for her entrance into the Church put it this way when addressing her and the other inquirers:
"There are a lot of reasons you're all here," he said. "Maybe a friend convinced you to come. Maybe a spouse. Maybe you're tired of your kids tripping over you as they leave the pew for communion each week. But there's another reason you're here that you may not realize." He took a moment to meet each of our gazes. "You're here because Jesus wants you here." (p. 109)
"And it happened that, while he was with them at table, he took bread, said the blessing, broke it, and gave it to them. With that their eyes were opened and they recognized him" (Luke 24:30-31).
_____
For more on Recipe for Joy: A Stepmom's Story of Finding Faith, Following Love, and Feeding a Family, visit (quickly!) the Patheos Book Club.