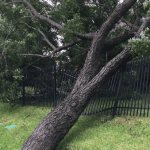 I am tired.
You get tired in a flood, because decisions keep coming, even if our problems are nothing compared to the suffering church in Syria or even what others in our community face. I am not complaining, I am even thankful, just tired.
We are blessed as a family and a school community, because our house and school are intact. We are hurting, because members of our church and school are hurting. They have lost cars, homes, and a lifetime's worth of possessions. Our community has come together and we will keep coming together: people are more important than programs.
On Prayer 
One thing that has kept us going is prayer: one of the most powerful doings there is. Say this, of course, and somebody will criticize. I am not tired of dialog and so this has been a refreshing thing, a break from a different kind of work! Here is one comment I received on my knowledge that prayer works:
Let's begin with an area of agreement: thinking is good. However, like most of humankind, I can adopt multiple approaches to solve a problem. This is wise. One should think, but also act. One should act and one action, though not the only one, is to pray.
Socrates was right: examine everything even in a hurricane. However, one might have less time for this as one is moving possessions to the second story than one might wish. Work. Pray. Think. You may not be able to do all of them simultaneously, but the fear of a hurricane concentrates the mind wonderfully so you can get more done than you think!
People are not Jugs of Milk 
If we take the advice of this critic and think harder, we will see that his criticism of prayer is not very good. Let's take his example of a jug of milk. In my experience, and using what philosophy and science teach me, a jug of milk is not a person with agency. Jugs of milk do not make decisions, have not made decisions, and cannot make decisions. Talking to a jug of milk sours a person on communication, because jugs of milk may curdle, but they cannot cuddle
No more milking the topic for puns: I told you I was udderly tired.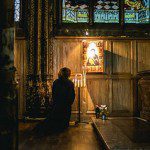 On the other hand, before prayer I have good reason to think God exists and is a person. My belief in God does not depend on God's response to this particular set of prayers. Faith is, at least, a rational trust in a divine, indubitable experience. Anybody who tells you faith is belief despite the evidence is a fool, an existentialist, ignorant, or a liar. I have respect, though not agreement, with a theistic existentialist like Soren Kierkegaard, but plan on ignoring the other types.
As a result, I can take "yes" or "no" as answers to prayer. This is the same respect I give to any person, though to no jugs of milk. Sometimes I will ask Hope (my "bed partner" as the commercials call us) for something. She sometimes has to ignore me, because she is engaged in other tasks. There are moments when she drops everything and does more than I could have asked, meeting my real need and not my felt need. She has also said: "No." I listen and know that "no means no." A free person gets to say no.
God, who knows all and has a cosmos of requests to balance has the right as well.
When Hope says "no" or even when she is silent, I do not doubt her love or her personhood. How vile would that be?
In a similar way, since I have independent reasons to believe in the personhood of God, I ask and thank God for His answer. Hope, even my wonderful Hope, can be wrong, because she does not know all and is not (quite) perfect. God can be trusted more than Hope.
God Can Even Be Silent 
One possibility is that I am fooling myself: God does not exist, my marriage is a lie, jugs of milk are persons. I do not think so, but I am always open to thinking about it, just not in a storm. During a hurricane, when I have to ask her to start moving stuff upstairs, or decide whether we should evacuate, is not, I think, the best time to consider these issues. I trust her and my previous thinking about us. In the same way, during the storm I trust God and pray.
He does not prove Himself by His answer. Sometimes (trust me) God is silent. Persons can refuse to speak as well as speak: God is not a machine, built to respond at our command. Thank God.
What does prayer do? Prayer helped me make better decisions, clarified my thinking, and guided choices. If I asked, the Good God might have done an intervention in the system He made. He can. He usually does not, because such a whimsical cosmos would fail too many other persons, but when God can, He delights in cooperating with His children.
I ask. He answers. God is good and some cold cereal would be a delicious snack before bed. Let's see if the jug of milk survived the storm.