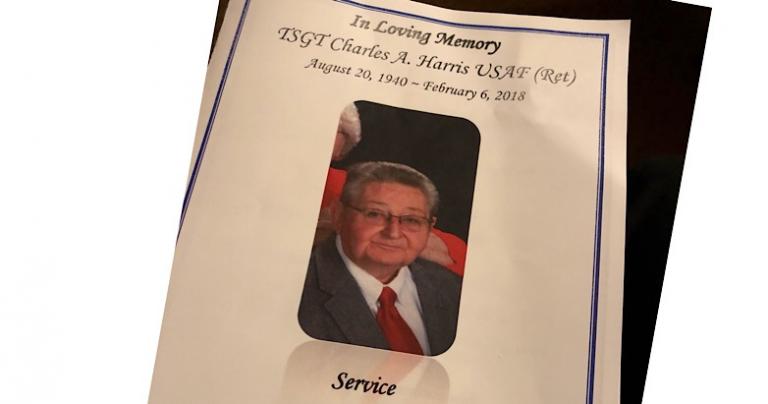 Today I said "until next time" to a good man who served his nation and the church: my uncle, Charles Harris. As I listened to his eulogy, the phrase that came to me was: Christian Victor, Uncle Charlie, Christain Victor.
He was victorious, especially as I saw him sleeping in death waiting the hope of the resurrection.  His country sent him around the world serving the Strategic Air Command (TSGT) and his service helped win the Cold War and free millions from the evils of atheistic communism.  (One of the first things I learned from listening to him as a small boy was: sergeants matter and that some officers matter less. This rule served me well when applied to University life.)
After this retiring from his job well done, Uncle Charlie did what he thought of as a natural and more important next step: he served Christians as a pastor. He went to small places and helped revive them, able to serve for less than most, because of his time in the Air Force.
He lived to see the Cold War victory he helped achieve, but was most eager to bring victory over sin and death to his community. West Virginia and Lousinia has many people who are victors, because of this Christian Victor. Growing up he was my Dad's friend, married to his older sister, a man that Dad could count on to be there. I saw him as strong, straightforward, and fun. Even as a kid, I knew you could count on Uncle Charlie.
You cannot win if you are not loyal, strong, and durable. Yet over time, it seemed to me that God also mellowed my strong Uncle. I saw his deep sorrow when my Aunt Jean died last year and though I had never doubted it saw how much he loved her. The Christian Victor was getting ready for his final challenge.
Christians embrace victory, we just do not go about winning the way some suggest. From the very start of the Church, there were Christians willing to serve in the military to protect and defend people, but they were also willing to lose their lives if the armed forced demanded absolute obedience.
We will not serve any power, no matter the short term cost, if it means losing for eternity. No wonder one great Roman convert took the name Christian Victor at his baptism. The City of God, The reigning city, is delivered for all time. You cannot sack the City of God, penetrate the walls, or destroy the Holy Wisdom within her.
Uncle Charlies served the Republic well as a good citizen, but he was first a subject of that reigning City, the City of God. The fine pastor who preached his eulogy said that Uncle Charlie once challenged him with a truth that stuck. When facing hard times, when unsure what to do, a man should follow his last orders.
Uncle Charlie could, because he had read Paul (2 Timothy 4:7-8) and knew the last orders:
I have fought the good fight, I have finished the race, I have kept the faith. 8 Now there is in store for me the crown of righteousness, which the Lord, the righteous Judge, will award to me on that day—and not only to me, but also to all who have longed for his appearing.
Your race is done and now the crown comes Uncle Charlie, Christian Victor.