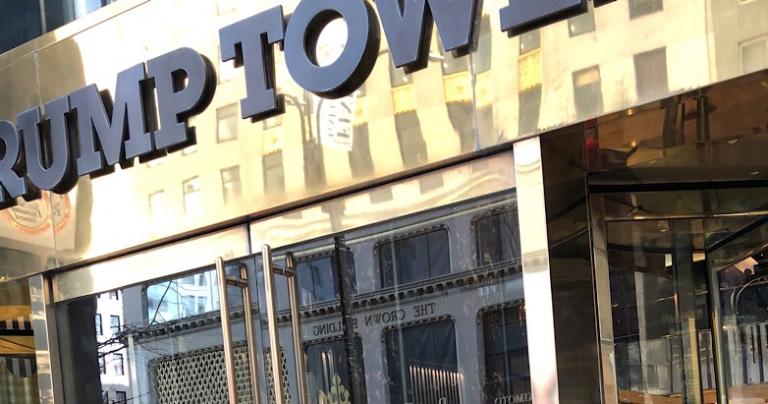 This is not about the President, but about what I saw and heard when part of my family visited Trump Tower.*
We are a family of political junkies and never miss the chance to go to a political library or home of a President (even Nixon) when we can. If you visit from childhood  (thanks to like minded parents), then you see and hear a good bit. Nothing is better than being a youngling and meeting a guide who knows her stuff and is delighted you care about Millard Fillmore.
Mount Vernon is George Washington and Monticello is what Jefferson wished us to believe he was, but wasn't, the old fraud.  When I was much younger, we talked my dad into driving to the flagpole in a field that marks the birthplace of Millard Fillmore and that sums him up. The room where Calvin Coolidge took the oath was as simple as that vow and as that decent man. Reagan's library is a combination of sunny and serious: a piece of the Berlin Wall planted in the Golden West sums it up for me.
I was curious: What would I find in Trump Tower?
I am still processing what I think, but I know the food was tourist good, better than we got at any other Presidential home. The entrance has shops and places to eat and was full of not-New-Yorkers who were happy to talk and greeted each other like members of a persecuted secret society. They felt safe and the anecdotes flowed like the Old Fashioneds.
One political tourist warned another not to wear the Trump-Pence 2020 sticker she had received outside the building as she had found it attracted hostile comments. Another who had a table near mine as we ate was a member of a profession that is officially part of the Resistence and was chatting with another person about her experiences. She said many of her co-workers supported much of what this President was doing, but nobody dared to express this view. She was excited to be in a place where being for the President was ok, as she did not want to lose her job or a chance of promotion by being forward about it. I was reminded that millions of Americans voted for the President in blue states. I have heard many of the stories of blue state voters stuck in red states and was jolted by the truth of the millions of Trump voters in blue states.
I heard another conversation where two women in line for some Trump swag expressed happiness with the tax bill and hopeful about the economy. One said she did not like the President's past and hoped he had changed in office and her friend said she thought he had. They did not like the tone of some Tweets, but said that the media was unfair and relentless so the President had to fight back somehow.
Mostly, however, this was a happy crowd, a great many kids getting ice cream, and watching people go up and down the sort-of-golden-hued escalators. People were cheerful. The other reminder was how few people watch right-wing or left-wing cable news. People get their news from social media. Friends tell friends what they think is happening. If we are six steps from Kevin Bacon, it turns out that most people in Trump Tower's political tourist zone are three steps from the White House. A friend has a friend who knows an intern in the White House and things are just fine . . . While everyone is focused on "links" to bad sites, I am not sure I see much about the direct reporting that goes on now.
In my own life, I have friends who have friends in Syria and they tell me what these folk are experiencing now. I get news on many places directly, though (of course) with a limited perspective. How many people are three or four friends from the White House? The pretty normal looking (and racially diverse) folk from all over the country I heard talking in Trump Tower apparently all know somebody who knows somebody. They get much of their news from people making the news.
Why aren't we talking about the fact that social media gives many people direct windows into areas that were once closed to all but connected reporters? 
It was good for me to get out of my own space and listen, talk, and consider another point of view. There are stories out there I have not heard, perspectives unconsidered. My visit to Trump Tower was much more illuminating than my time at the Fillmore library, but I am still not sure what to make of it all.
———————————
*Bias alert: I am a Burkean Republican that was "never Trump and Clinton" in the 2016 race.