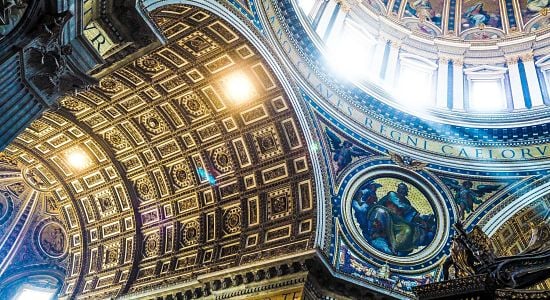 Tuesday, May 29th and the faithful are in Church, some of them. Others defend the City, because that is what faithful people do. There are portents, fear, nothing built to last appears strong enough. We are losing on Tuesday, May 29th, the year of the Lord 1453. The great walls of Constantinople, the reigning city, are breached. Allies  failed the faithful and history will never see an Eastern Roman Empire again. Classical education and theological education had continued in one city for centuries with no true dark age.
All was lost on Tuesday, May 29th.
How could this be? What did the faithful do when the unthinkable happened?
They went to Russia, Rumania, Bulgaria, Greece, Syria, Lebanon, and Palestine, eventually to America. Wherever they gathered, they recalled the City that still is, the Great City, the walls unbreached. They sing on Constantine's day:
 "Constantine, who is thine Apostle among kings, O Lord, having beheld with his own eyes the sign of Thy cross in heaven, and like Paul having accepted thy call not from man, entrusted the reigning city to Thy hands, delivering it with safety for all time by the intercession of the Theotokos, O Thou who art alone the Lover of mankind."
How could this be? Aren't the walls breached this Tuesday? Isn't the great church of the Holy Wisdom a museum? Surely the reigning city is not delivered with safety for all time?
Surely, the City is safe, delivered and is safe for all time.
The faithful know that Jerusalem fell and her Temple was burned and defiled by Babylonians. The great reigning city of David from which all other earthly cities and from whom all lesser kings gain their images fell. This was bitter until Jewish sages and Christian prophets realized that Jerusalem was beloved, the very ruins, but that true Jerusalem was in the Mind of God.
This was not to ignore the geography of Jerusalem. The image is important and many miracles saved earthly Jerusalem until in the wisdom of God, the image passed away. Jerusalem would be rebuilt and there were other Temples, but these too were images.
This lesson was not lost on Constantine, tasked to save Rome when Rome had become swollen, corrupt, and indefensible. He built a New Rome and the image moved and much that might have been lost was saved and much that might have been forgotten is recollected to this day. Many miracles saved his city over centuries and, perhaps, a few thought the city could never fall. There was a ruinious taking of the City for a time by other Christians, but the City was restored and worship continued in the Church of Holy Wisdom.
Tuesday March 29. 1453.
The icon was defaced and the City returned to God who gave it: safe for all time.
The faithful did not quit. They mourned and then they built new cities: Moscow, Sofia, Athens. The best news of all: there had always been other ruling cities in Tbilisi, Vagharshapat, and Aksum. All over the world the faithful build cities, live in communities of education, art, science, and culture. They love those cities and many endure even to this day.
Yet in the end all human things fail. The wages of our sin? Death. The Babylonians come and Habakkuk must be read again.
Why then have hope?
Because if you know the eternal City is safe in the Mind of God,  then you can build an image of that City and take joy for as long it lasts. No defeat is eternal anymore than any earthly victory. We build a church, a school, or a business in a new city like Houston with joy. God sees even this image and that which is Good, that reflects the eternal City will be recollected and made whole.
I imagine the Heavenly City to come, Jerusalem, and the many neighborhoods there: Aksum restored, Saint Nina, equal to the Apostles, preaching in the Armenian quarter, Athens without rubble, Moscow's spires rising high, Antioch and Damascus delivered, and Constantine's community down near the walls. . . delivered with safety for all time.
Maranatha. Come quickly, Lord Jesus.