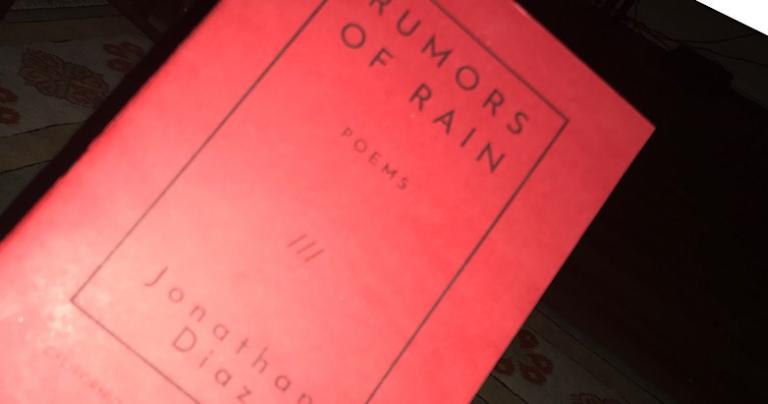 Professor Timothy Bartel has published the work of California poet and teacher Jonathan Diaz in Rumors of Rain. 
This work is luminous.
If we live in difficult times, and we always live in difficult times, then the makers of beauty, the tellers of truth, and the poets are always needed. Diaz is such a poet and I found his work stimulating, challenging, and utterly counter-culture. He dares to stand athwart history and cry: "Think. Reflect. Consider."
When it comes to beauty in the culture, poets are the canaries in the coal mine. They are atune to changes, ugliness disturbs, and beauty inspires. When the poets breathe, the air is breathe-able, when they suffer, the cultural air has gone bad, when they die, then doom is coming. Diaz is cause for hope, because he is honest, writing what he knows, and his breathing, his very health, is a sign of hope.
Iglesia Pentecostal Luz de Dias is, for anyone with experience in the charismatic or Pentecostal traditions, familiar and yet grounded in the particular experience of Southern California Hispanic Pentecostalism. When Diaz writes: "The fervent end of all this flame is strong/Unnamed unless by un-extinguished tongues" I know this account is true. The experience of such churches is to find words multiplied, coined, without sin.
Diaz is not afraid to sing of Shrink Wrapping or of the more conventional celebration of plumeria. Diaz sings of the world as he finds it. He is oddly free of ideology: he sings what he has seen and experienced and one feels no ideological limit to the poetry or forced frame of reference. He is real without gratuitous ugliness, honest without shouting out his truth so pointedly that it becomes self-promotion. Jonathan Diaz has given us himself, well written, lovely, and illuminating.
I do not often pick up just published poetry and say: "This is like the world I know, but
different.
The poet has taught me." Sadly, poetry (like so much serious, pretentious high culture) has become ideological to the point of falsehoods: beauty is missing. "All home is hurting" is a line we expect in contemporary poetry, but not "awe and vast longing/for sights long seen and/intimate to these/memories I am." Diaz dares the Tetragrammaton in service to getting the truth about home right: honeysuckle and squad car, hurtling and longing.
Both are true and both America in 2018. My own homestate is opioids and Almost Heaven. Diaz gets us, because he is true to who he is without forgetting common humanity. This is rare and I thank God for Jonathan Diaz making such poetry.
My complaint, to the extent I have one, is the collection is too short, my hungry soul demands more. We are just getting a vision of Diaz and his project when the last poem is done. This collection is coherent, but incomplete . . . More please. Perhaps, I am like Oliver Twist asking for more gruel in the orphanage. Poets with the MFA . . . Academics all . . . are so often full of cant unrecognized because ugly and secular. You can conform without risking the accusation of being a conformist if you cover your pages in anger, hatred, and blood.
Diaz gives us beauty, truth, and honesty, but I stand before him asking: "Please sir, more?"
Just buy the book.