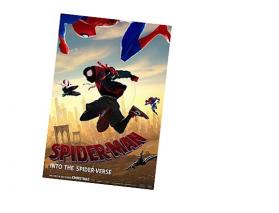 Some movies are Christmas movies, think any version of A Christmas Carol, some are debatably Christmas movies (Is Miracle on 34th Street actually a Thanksgiving movie?), and others are frequently watched over the Holidays (Lord of the Rings Extended Edition marathon).
Die Hard with a focus on a suffering hero that is set before the Twelve Days of Christmas is an Advent movie.
Joining Mary Poppins, Lord of the Rings, Sound of Music, and other not-Christmas, but perfect for vacation movies is the year's best animated film: Spider–Man: Into the Spider–Verse.
As a kid, animated Spider-Man was terrible, catchy theme tune notwithstanding.The 'Nineties' gave better animated Spider-Man, but this was still mostly kiddie fare. The live action films were for everyone, but the quality was uneven. How many reboots and origins stories do we need?
This film gives us many, poking gentle fun at the franchise, and rebooting it successfully. Spider-Man should be (a bit) lighthearted and this film made me laugh out loud: Spider-Ham is just fantastic without being absurd . . . Somehow. Not to spoil anything not visible in a poster, but we get lots of spins on the Marvel character Spider-Man. Decades of comix are mined for alternatives.
The good news is that the clever plot allows a wholesome diversity in the cast without the least bit of pandering. Miles Morales is a splendid Spider-Man in the 'Verse' where the NYPD is the PDNY. The voice acting from Shemaik Moore is authentically teenage sounding and yet professionally mature. For the older crowd (ahem) there is Lily Tomlin as Aunt May (it works!) and Nicholas Cage in his most expressive role in years voicing Spider-Man Noir (!). For those not so old, Chris Pine shows up, though John Mulvaney steals every scene as the voice of Spider-Ham.
For all that, it is Morales and his family who are central and it is good to see a Spider-Verse where a mom and dad are involved in the life of the youngling. Byron Tyree Henry voices the father (Jefferson Davis) who is believably struggling with raising a gifted kid seemingly intent on squandering his gifts. Sadly, the mother (Luna Valdez as Rio Morales) is given less to do in a crowded script. Still, the interplay of a super-powered son with his cop dad and the brilliant uncle, Aaron, (Marhershala Ali) that the young man seems to prefer, gives the story its emotional weight.
The resolution of this conflict is the emotional heart of the story.
Friendship is celebrated and romance downplayed. This is most excellent, not because romance is bad (God forbid!), but because too little is made of friendship in films. The spider-people bring different strengths. The wisdom of Gwen Stacey, superhero in ballet shoes (voiced by Hailee Steinfield) contrasted with a hobo-Spider-Man (watch the film) is a refreshing spin on the mentor role.
To the extent romance enters the film, it is a part of a greater theme: loss. Nothing can prevent loss in this life. Some losses are from death, the deaths of good and not so good men are featured. Other losses come from our errors and might be fixable, but maybe not. One of the spider people has a romantic loss and there is hope, though no certainty, that he can repair his marriage. That two of the spider people are fairly young and married is refreshing and real.
The film has the practical philosophic value of being a bit of a reductio on the entire speculation about infinite parallel universes. This concept was a great boon to comix writers looking to tell new stories with old characters ("What if Superman were a Commie?"), but leads to some pretty absurd universes. Isn't it ontologicallly simpler to concede (at long last) what we have reason to believe for other reasons: there is a Creator?
Still, thinking about this movie is not the point: the feels are good, the diversity is introduced with excellence, and the story telling is brisk. This film is merry and bright and that is good for an afternoon of Diet Coke and hold-the-butter popcorn.
Watch the movie.