The most important thing I'd like to get across to you is this: It is possible to be
calm amidst the storms of life. Do not believe the lie from the evil one that "things are
hopeless!" He slyly suggests your sighing and sacrifice, your labor and love, your
prayers and ministry are in vain. "Flip through the TV channels", he prompts. "Check
email", he tempts. "Have another snack." "Have another drink" because "it doesn't
matter". NO!!!

God is with us, even in the pain, the confusion, and the hopelessness.
God has given us of the gift of restored humanity in Jesus Christ who has opened
heaven to us. We have received the "free gift that costs us everything." Jesus Christ
abides in us and we abide in Him through our conscientious participation in the
sacraments, careful reading and application of the Divine Scriptures, keeping the
Commandments through repentance, service, and sacrifice, and through our prayer life,
liturgical, daily, and deep in the heart!

Let me echo the Apostle Paul's powerful words, that he shares with us from his great vision of the resurrection: "Therefore, my beloved
brethren, be steadfast, immovable, always abounding in the work of the Lord, knowing
that your labor is not in vain in the Lord." (I Corinthians 15:58)
This address from His Grace Bishop Thomas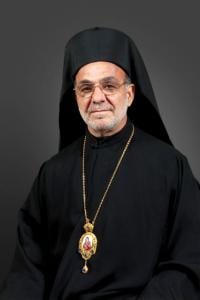 was delivered at the end of The Saint Emmelia Homeschool Conference hosted by the School and College at The Saint Constantine School.
We need more in a troubled time than "keep calm and carry on."
Why?
What are we to continue? In World War II, British people knew what being British was, so being calm and carrying on made sense. We are not so blessed. If we were to keep calm and carry on as contemporary Christians and Americans what would that mean?
Bishop Thomas is a pastor and educator who taught in New Jersey and Houston public schools and has been in ministry for decades:
With this in mind, let's talk about a couple practical things we can do to ensure


that our homes remain 'in Christ.' But first, a secret our Lord shared with his disciples
just before his passion: "Watch and pray lest you enter into temptations." (Matthew
26:41) We need to be focused, just as a pilot on a ship in a storm needs to be not just
confident and competent, but at the helm, in control of the vessel, following the captain's
orders.
 Read the address. 
Rachel Motte edited this post.