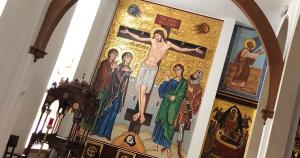 Easter is past, but Pascha is almost here for the Orthodox.
Death was the plan when people chose badly. The Cross of Jesus was the way God redeemed death by making it a gateway to Paradise.
Love lets the beloved reject even what is good, true, and beautiful, because love does not demand acceptance. Yet if a person rejects love, as is his right, then he rejects all that might have been. When humankind rejects God, we turn our backs on the grounds of goodness, truth, and beauty. We didn't mean to do this: we just wanted what we wanted without God and His ways.
God left all the goodness, truth, and beauty He created around for us, but without God, humanity cannot keep from warping the good, twisting the truth, and objectifying beauty. The offer of help was always there, but most of us are too busy to think. We go from experience to experience until life is gone and we simply run out of time to say "yes."
Death was a severe mercy from God that cut off the endless degeneration and greater pain that would have resulted from endless life in this time. What could be done?
There are many ways of understanding the Cross: some are theological, others philosophical. None can capture all of what was happening. The event was that rich with meaning. The life of Jesus was God coming as a human and living among us. God experienced birth, growth, and life in our midst. He taught, healed, delivered, and did good wherever He went. Mostly those with power rejected Him and those without looked to Him with hope.
Power seemed to win at the Cross: Rome always won, power won.
Or did it?
Jesus refused hate, despair, and God experienced what it was for a man to die. Jesus' human nature dragged Him down to the place of the dead, His Divine nature broke the gates of death and let captives free.
The movies love the gore, while the Gospels pass over it quickly. Nobody had to tell an ancient Jewish person that crosses were bloody and brutal. The Romans had taught that lesson well. Instead, the Gospels
assume
the pain and focus on the triumphant man: loving His mother, forgiving His enemies, saving one of the thieves who died with HIm. The cross was diabolical, but Jesus made it holy.
The most ancient images we have show Jesus falling asleep peacefully. He gave up His life to God. Nobody could take His life, He let humanity choose to kill Him, reject love. Of course the cross was bloody, blood that never loses power to save us. Yes, but the blood flowed because of sin, while the good God-man was intent to rescue the dead and set us all free. The Church glances away from the gore made by tyrants and turns to the love of the Lord.
Holy Friday is suffering in surgery as death is transformed to a potential pathway to Paradise. Jesus rejected the power that could have saved Himself, but left captives enslaved. Instead, Jesus picked solidarity with everyone who ever suffered unjustly and then forgave those that killed Him.
The Cross gives us a choice: we can choose life or death. We can look at the Cross and see bloody tyrants winning or we can see the God-man loving us to the end. We can chose a God who knows our pain and will spend eternity healing all the hurts of history. 
Lord Jesus Christ, son of God, have mercy on me a sinner.