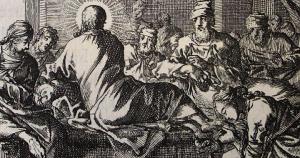 Beauty matters.
Easter is just behind for many, but Pascha is Sunday as the Son rises for the East.
Wednesday takes us close to the historic events of Holy Friday, Friday, and Saturday. Pascha may be coming, but first bread, wine, wood, iron, all material reality will be transfigured. Jesus was constantly making archetypes visible: this week He began to knit the invisible back to the visible, the spiritual to the material.
On Wednesday, however, a woman was used by God to create unforgettable performance art. Recall a beautiful event, a repeat performance of a piece of dramatic iconography that had happened earlier in Jesus' life:
When Jesus was at Bethany at the house of Simon the leper, a woman came up to him with an alabaster flask of very expensive ointment and she poured it on his head, as he sat at table. But when the disciples saw it, they were indignant, saying, "Why this waste? For this ointment might have been sold for a large sum, and given to the poor." But Jesus, aware of this, said to them, "Why do you trouble the woman? For she has done a beautiful thing to me. For you always have the poor with you, but you will not always have me. In pouring this ointment on my body she has done it to prepare me for burial. Truly, I say to you wherever this gospel is preached in the whole world, what she has done will be told in memory of her." Then one of the twelve, who was called Judas Iscariot, went to the chief priests and said, "What will you give me if I deliver him to you?" And they paid him thirty pieces of silver. And from that moment he sought an opportunity to betray him. (Emphasis mine)*
This is a story of great theological depth. At the simplest level, however, observe that the woman is not literally preparing Jesus body for burial. He is not yet dead and will not be crucified for days. She is doing so figuratively: creating an artistic moment of great beauty. This woman is doing what each one of us should do at a Holy Week service or any Sunday service as we worship: we bring our best to create outer signs of deeper reality that was or is coming.
Each divine service we show the Lord's death until he comes.
Why? Someone asks if we use gold in the cup or wear beautiful vestments in some of our services. Why not give the money to the poor?
I will point out that churches are for those of us who grew up unable to afford world class art in our homes. They are not museums, but places where the beauty is accessible: we are encouraged to touch, taste, smell, and see that the Lord is good. Our churches may be "simple" in architecture like those built by my great-grandparents and grand-parents in West Virginia, but those that are left in those beautiful hills are the subjects of artists.
They gave their best to God and their best remains a glorious truth, tangible goodness.
Some of the people of West Virginia at that time were poor by any American standard, yet the beauty they created endures. They were the poor that are always there, because poverty is relative. Like the woman in the story, they gave extravagantly to Jesus and Jesus made what they did memorable.
By all means give money to the poor, but while all the disciples complained this way to Jesus, John (in His Gospel) points out that Judas was most furious about the "waste." Why? He was a thief and wanted the money for himself. So I have found it to be when I have been told not to waste money in education on the arts or other "frivolous" things. Administrators end up with the saved thirty pieces of silver for themselves. After all, why do we need to see and experience beauty we are just the poor.
I heard such talk as a little boy in West Virginia and learned to hear the sound of Judas in it. Jesus was concerned enough about the disciples ruining this sermon in alabaster and perfume, this beauty, that he memorialized it for all time. Wherever the Jesus story is told, her performance is remembered.
Judas got his payday anyway. He sold Jesus out for money. None of the poor got any of that cash either.
And so it goes.
Jesus made a cross worth gilding, nails an ornament, and transformed the a sepulcher into a holy church. As God He was creator, as man he created beauty out of creation: beauty from beauty.
We must be like Jesus. 
—————————————————-
*Matthew 26: 6-16