I ply with all the cunning of my art

This little thing, and with consummate care

I fashion it—so that when I depart,

Those who come after me shall find it fair

And beautiful. It must be free of flaws—

Pointing no laborings of weary hands;

And there must be no flouting of the laws

Of beauty—as the artist understands.

Through passion, yearnings infinite—yet dumb—

I lift you from the depths of my own mind

And gild you with my soul's white heat to plumb

The souls of future men. I leave behind

This thing that in return this solace gives:

"He who creates true beauty ever lives."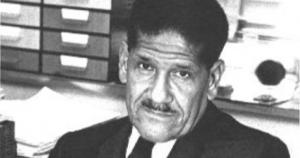 At the end of the year, when the seniors are leaving, and there are no freshman left until the Fall, I wonder what is being done and what I should have done. Looking for wisdom, I found this poem by the too little known Marcus B.
Christian
. Christian crafted poetry in a manner that did not fit the spirit of the times: traditional poetry by an African American man- "wrong" era, "wrong" race.
Wrong.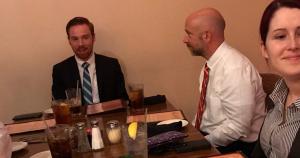 Marcus Christian calls back to me something I first heard in Scripture: "Whatsoever thy hand findeth to do, do it with thy might; for there is no work, nor device, nor knowledge, nor wisdom, in the grave, whither thou goest." He reminds me of Bezalel, the man about whom God said: "I have filled him with the Spirit of God in wisdom, in understanding, in knowledge, and in all kinds of craftsmanship."
Bezalel made things, but they were things that had a deeper meaning as icons of God in the tabernacle. Like any craftsman, the object of his art was a window to his soul made in the very image of God and so was a window to heaven. Look at his craft and you are two steps from the Beatific Vision of God: direct, eternal, rational. Marcus Christian crafted poems and followed the laws of beauty. Beauty, as Christian knew, was not just in his own eye, but real. He had to select the words, place them, and follow this profound aesthetic law as difficult advanced physics.
Like Bezalel with his tabernacle art, Marcus Christain made poetic art. The tabernacle art is lost to time, we still have the poetry. Both kinds of art are experienced physically: seeing the Tabernacle, reading the poem. Our eyes have it and so are taught to affirm beauty.
What is being taught?
Whatever you make, be like Marcus Christian and Bezalel: use consummate care, follow the law of beauty, create true beauty. This is a pathway to immortality, not as the human elite give immortality. The university system rejected Marcus Christian as a poet or even a library worker. God said
"Yes."
Imagine: Some higher education hack thought Marcus Christian lacked the credentials to work. He lost his library job over diplomas while writing poetry for which you can now earn a doctorate. The hacks for higher education
discarded craftsmanship for credentials: diplomas trumping poetry.
The modern college often values the paper over the poet. As a college
administrator
, I must stop and ask
what is my craft.
What am I creating which is "true beauty?" The very structure of kindergarten through college (our
project
) must be crafted beautifully as Cate
Gilbert
and Bob
Stacey
do daily.
Of course most of us are not poets as great as Marcus Christian or educators like Gilbert and Stacey. So what do we do? We make of our own jobs, our work, a craft. What makes this so? Act as Marcus Christian suggests:
use cunning to craft something consummate
follow the laws of beauty
mind and passion matter.
We know this truth, but we do not live it.
Lord Jesus Christ, son of God, have mercy on me a sinner.