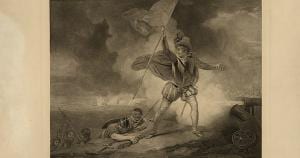 God is good and life is in God's hands, so Scripture teaches and William Shakespeare believed. He knew, Hamlet shows he knew, the pain of life and reasons to doubt Providence. Yet Shakespeare was not just the author of tragedy but of divine comedy. As a Christian, he knew that human history ends in a wedding between God and humankind, punctuated by the tragic mistakes we make and that happen to us.
A comedy like As You Like It has profound parts, but is also light. The lovers win and the "wise guys" lose. Everyone inherits more joy than they deserve. The jollification is unrestrained and the court is restored by a foray into the country: the Avon flushes out the sewage in the Thames.
One part of the play is particularly moving to a Christian.
The bad guy is about to be bad when he meets a man of God, repents, and stops being bad. That's the end of As You Like It and some criticize the ending as too neat, implausible, God swooping down to save Shakespeare from needing a sixth act in a five act play.
Nonsense.
God is always putting chances to repent in front of the "bad guys" to turn them into good guys. Sometimes they consent and when this happens, a miracle of grace, happens. I have seen students eager to bully peers, stop, think about, and stop. Why? Jesus came to them.
Perhaps a problem of our age is that we have too many powerful people promoting political solutions and too few "old religious" men meeting, discussing, and persuading by the dialectic and a life of holiness. If I am unfit for the role, having started too badly to qualify, I can encourage others to carry on to old age so miracles can happen.
Nothing is so powerful as a transformed life. I have known scores of people heading to ruin transformed 
instantly
by God's grace: drugs flushed down the toilet, marriages saved, crimes averted. People who 
work
for religion can be hypocrites or even evil: check the social media feed. People who are 
religious
need not listen to God. You can believe in God and reject him, ask Satan who has no doubt God exists, know just who Jesus is, but rebels to the destruction of many. Yet where a person has time, there is hope. A being in time can turn away from the old way, the hurtful way, the broken way, and bring unexpected delight.
Does this always happen?
No.
Does it sometimes happen?
Yes.
And this instantaneous transformation comes form a dialog with the an advocate for the Divine. Shakespeare says, of his villain:
And to the skirts of this wild wood he came, Where, meeting with an old religious man, After some question with him, was converted Both from his enterprise and from the world, His crown bequeathing to his banished brother, And all their lands restored to them again That were with him exiled. This to be true I do engage my life.*
Life tries to find a way, because God, the divine designer, makes a way whenever he can. The wedding is always coming, even if it feels as if it is not.
Wait.
Eternity is coming and all will be, in the end, as God likes it, thank God.
—————————————
*Shakespeare, As You Like It, V