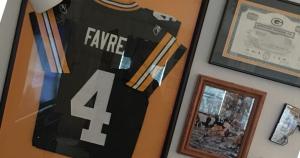 Are professional sports good for a community or for us?
I think so, maybe. A critic, but a good faith one, suggests that I am quite wrong.  Steve Baughman, lawyer and gadfly (in the good way!), argued that professional sports fandom is quite bad, for the Republic and for us. His argument was interesting, but I thought it failed philosophically and practically. 
Now I am excited to present a response to my defense of the good done by professional sports fandom. Following normal guest discussion rules here, Mr. Baughman will have all the space to himself for a day and then I will respond the next. I greatly appreciate Baughman's engagement with an issue that while less important than some life or death issues of our time impact many.
If I should not enjoy an Astros game or love watching the Packers play, then I want to know. The dialectic, the wonderful wondering about everything when a person meets a sensible critic, is the best way I know to find out. Thank you Mr. Baughman for pursuing the dialectic on sports fandom with me.
Mr Baughman writes:
In Praise of Woggabaliri.
This is a terribly awkward time to be defending a case for the irrationality and dangerousness of professional sports fandom. Not only did the World Series start about an hour ago but, if I understand correctly, one of the competing teams is from my interlocutor's hometown. Yikes!
It is also awkward because John Mark Reynolds makes some powerful points against my view. Indeed, on first reading his lengthy and thoughtful piece I was inclined to lighten up a bit with all my distress over the intensity and pervasiveness of professional sports fandom. After all, with insightful and self-reflective people like that amongst pro-sports fans, why should I worry? Or at least, why should I worry so much?
Still, while Reynolds has given me much to think about with his comments, I am back to worrying.
Before I explain why, there are a couple of issues that we should dispense with because they manufacture disagreement between me and Reynolds where none actually exists. My argument is that professional sports fandom is irrational and dangerous, not that it is without positive qualities. Yes, friendships are made, nerds and jocks bond, Jackie Robinson and Jesse Owens moments break odious barriers, and, as Reynolds eloquently puts it, "The very triviality of the immediate connection in pro-sports, the rituals and the boundaries, make meeting of minds from different classes easier."
Good stuff, no doubt. But the same happens in Dullybonking. (Don't google it; it's a placeholder word I just made up to stand in for almost any irrational and dangerous social group activity you can think of.) Passions-in-common, even irrational and dangerous ones like those displayed by Dullybonkers, can do good stuff. So I consider Reynolds' point about the positives of pro-sports fandom not very relevant to the issue in play here.
Also, I hope I made it clear that I fully share his point about the spectacular artistry professional athletes demonstrate and the merriment they impart to us spectators. Oh, and the excitement! Didn't I say I love watching runners caught in the pickle? And Roger Federer's astonishing between the legs shots? And if I actually watched a Green Bay Packers game I would undoubtedly feel the same about their skill.
So after conceding that there is all this good stuff, what's my problem? I will now climb back into the trenches and resume firing.
Significantly, Reynolds and I agree that the activities in pro-sports are trivial, arbitrary and banal. What I would like to see him do is direct more firepower to my claim that the irrationality of which I complain resides precisely in caring so much about these trivial, arbitrary and banal things. That is the heart of my concern!
Reynolds does acknowledge that everybody knows it is "just a game." But that seems to me platitudinous. Why do the "just a game" folks scream so loudly, bite their nails, get angry at the umpires, experience elevated pulses, euphoria, sadness, and rejoice with intense vigor despite the palpable disappointment of some young man who really really wanted to be a hero (with his mother likely watching) striking out to lose the game? This does not sound to me like "just a game." And these, by the way, are not excesses of fandom, like beating up supporters of the opposing team. These are integral parts of what professional sports fandom is. If you doubt me on that, close your eyes and try to picture fandom without these. This intensity of passion over the admittedly trivial, the arbitrary, and the banal, strikes me as plainly irrational.
Reynolds mentions music as analogous to sports fandom. His point, I take it, is that since nobody complains about all the passion we feel for music, why be uptight about sports? Well, because nobody cares who wins the symphony. Nor do the violins cheer when the cello breaks a string.
Imagine the Green Bay Symphony playing Lambeau Field to a wildly cheering crowd. Violinists of color would break racial stereotypes. Conversations in the parking lot over beer and peanuts, or perhaps wine and cheese, would yield friendships across class and other boundaries. The aging cellist whose fingers are giving out would play her final concert to thankful admirers who give her a tearful standing ovation after the encore. Etcetera. All the benefits of pro-sports would accrue, but without the hard-to-defend focus on competitive outcome.
(Parenthetically, I also think it would be difficult to make a case that what the Green Bay Symphony does is trivial, arbitrary and banal to the same extent as what, say, the Packers do. But I will leave that point unargued for the time being.)
OK, so caring who wins may be hard to defend. But what's the danger in that? Here nuance is important. No, I do not equate wearing the Packer Cheesehead with wearing a Klan hood. My claim is far more modest than that. Here it is stated succinctly.
All things being equal, social movements that focus on defeating out-groups are less conducive to cultivating values that promote social harmony than groups that do not have such a competitive focus.
I find the above position intuitively plausible, though it is an empirical question that I'm not prepared to advance with any evidentiary vigor. Still, it's worth pondering. Let's go back to Lambeau Field. Which group of 81,441 fans is going to get along better, the one comprised of people unified around their love of music and for this orchestra, each hoping for the best experience for all in attendance, or the one comprised of two groups focused on subjecting the other to defeat?
Let us take this now into life outside the stadium. Which population is more prone to hostility towards out-groups, the one that has cultivated cooperative values with a win-win focus (like art, music, and various non-competitive sports like those once popular amongst Australian), or the one that seeks and rejoices in the defeat of opponents?
I remain convinced that ours will be a better world when the Green Bay Symphony plays to a packed stadium while the Green Bay Packers host a bake sale to raise funds to mend the jerseys before the next season starts. And I remain troubled that our society has things so extremely the other way around.
Finally, speaking of the benefits of non-competitive endeavors, I very much appreciate the value that Reynolds places on the dialectic. Regardless of what one concludes about, or from, this discussion I have benefited very much from being forced to think more deeply about this issue. I am grateful for the opportunity to have this back-and-forth with such an able thinker as Reynolds.
Well, the big game is probably over so I will stop now. I don't give a hoot who won, but I hope there was lots of merriment on both sides.