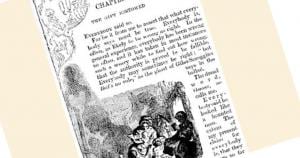 Dickens' last Christmas story, The Haunted Man, is inferior to A Christmas Carol and the story most popular with his contemporaries, Cricket on the Hearth. The Haunted Man is Dickens' last full word on Christmas, a holiday with which he associated himself, becoming part of the decorations of the season.
It is a bit sad, a Christ haunted Dickens who will gone on to write some of his greatest work, but in his life ignore advice in his little Christmas novellas that might have made his ending better. Dickens liked his friends to call him the Inimitable One, but Christmas put him on a level with the rest of us.
As it was, better to be his reader than his son.
The Inimitable One at Christmas: Little Lord Jesus 
Dickens did not invent Christmas or secularize it, but he did love Christmas.
Sadly, I suspect that like all his loves (wife, children, friends) Dickens wanted to be inimitable and Christmas, even to the author of A Christmas Carol, was too large for Dickens, too ancient, too grand, for even a Dickensian take to be unique.
Everyone who comes to Bethlehem is made similar: we can be like Mary, Joseph, the innkeeper, shepherds, wisemen, but we cannot change the story. It is greater than we are. Jesus Christ and this greatest story ever told overwhelms our eccentricities and pulls on our common humanity, even that of Charles Dickens. Before the Christ child, we are all people. 
One might have a Dickensian Christmas, but no man has ever had Christmassy Dickensmas. Tale of Two Cities would show that Dickens was capable of capturing the secularists of the French Revolution and turning them to his purposes. Christmas haunted him, a Holy Ghost calling him.
This is a man who wrote a life of Christ for his children, the Gospel according to Dickens, but he 
failed
. His biography, think 
David Copperfield,
he could improve, but not that of the Christ.  Dickens could run from his marriage, try to control his adult children, labor to remain relevant in literature and with his hangers on, but he could not subsume Christmas. Instead, his stories of Christmas 
rebuked 
his inimitability!
Cricket on the Hearth was a story that should have shown Dickens how to be a better father and husband. The story and the characters that lauded virtues were more inimitable than the old fool he became in relationships. He needed the redemption available to Scrooge, but Dickens had to repent of a sin more serious than usury, more corrupting than gold: pride.
Middle age revealed to Dickens that what he wished to be was beyond him. He quit writing about Christmas and by the time he wrote his last finished novel Our Mutual Friend, Dickens was trying very hard at writing inimitable Dickens. Yet in this last Christmas story, written long before, Dickens was, if he had known it, a prophet to himself. The troubles of life, sorrows, the disappointments, were good for the soul. They made his work live. Should we try to forget our heartaches and misery? Perhaps in paradise, but here they are a school for our spirits and can make goodness and beauty more "dear to us."
Dickens mined his sorrows, particularly his childhood pain, and made beauty from the troubles. This was not enough to sustain him. What would have come if he had embraced "hard times" in his personal relationships? What if he had accepted that he must grow less and his children more? What if his writing had embraced not just the pains of youth, but the pains for middle age? He failed to do his duty in his marriage and family, as Cricket told him, or to live with the reality of death as Christmas Carol suggested. His last Christmas story warned him not to forget his trouble, but also that a man must stand at his post and do his duty with mercy and forgiveness.
Dickens would turn away from Christmas and try to run from his troubles: marriage, age, and change. He forgot what he had written in The Haunted Man.