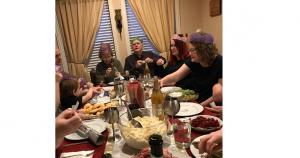 Most change, like most things, is good.
I was reading a story about how younger adults no longer buy fine china . . . and suddenly realized that people cared. There are many reasons that china is no longer a thing and those are sometimes sad, often interesting, sometimes virtuous, but never discouraging. If younger adults wished they could live in space large enough for a dining room, and the choices of my generation have made that impossible, this is sad. If young adults simply like other things, that is interesting. If some are following Jesus and simplifying life from material possessions, then I should learn from the example.
One of my favorite "things" is when we can gather together and feast, but perhaps my (now) adult children will not continue this tradition. I hope and trust they now enjoy (or get some pleasure) from eating together in high style, but if they do not and the tradition fades, then something else interesting will take the place of the old way. If what takes the place of a feast (on fine china!) blocks family togetherness, that would be bad. If we became isolated, that is not good. However, I trust that they will find a way, some parts new, some carried forward from home.
I always hope to see what wonderful news variations they will find.
There are eternal realities: the Good, Truth, Beauty. These never change. The moral law does not change. Somehow knowing this is supposed to make us hope that people keep buying fine china.
Nonsense.
When I am told to hate my enemies, that is eternally wrong. When some aspiring heresiarch on social media finds some sin that this generation will call virtue, this is eternally wrong, but also historically normal. We are always justifying some sin, just different ones. No generation has grounds to say: "Why can't they be like we were, perfect in every way?"
When I was a lad, Mom and Dad (pretty square!) had some very groovy younglings in our house. People with less wisdom would get up tight, but Mom and Dad persisted in loving people. They never compromised on the principle of the thing, but if you wanted to have long hair (on a man!): ok. Dad had a crew cut. He was himself, the younglings where themselves. Things changed: oft for the worst, sometimes for the better.
I still miss paisley, but most change is hoop la!
The oldsters (my age now!) that criticized the younglings (my students' age now!) were sometimes right, often wrong. The younglings that ignored the oldsters were sometimes right, often wrong. Mom and Dad just kept being Christian and keeping the eternal things as a guide. Flush the drugs that are killing you. Get married if you are shacking up. Get a hair cut? Meh.
That's how I was raised and so though I love fine china, I am not (at all) upset if the next generation mostly sees this stuff in a museum. I will be sad, if some generation never sees the Holy Grail in the hands of an Orthodox priest and grows blind to the True Light.
That, as they say, is in God's hands.
Inshallah.
I will not cease from mental fight, nor shall the sword rest in my hand, until we (all of us!) have built an icon of Jerusalem here in Houston. We shall partly fail and so the next generation will try again. They will discard some of what we have done, but God help us if we care that they have discarded our china. Instead, we hope that they will recall the eternal things and that we like King Arthur can, at last, lay down the sword:
And slowly answer'd Arthur from the barge:

"The old order changeth, yielding place to new,

And God fulfils Himself in many ways,

Lest one good custom should corrupt the world.

Comfort thyself: what comfort is in me?

I have lived my life, and that which I have done

May He within Himself make pure! but thou,

If thou shouldst never see my face again,

Pray for my soul. More things are wrought by prayer

Than this world dreams of. Wherefore, let thy voice

Rise like a fountain for me night and day.

For what are men better than sheep or goats

That nourish a blind life within the brain,

If, knowing God, they lift not hands of prayer

Both for themselves and those who call them friend?

For so the whole round earth is every way

Bound by gold chains about the feet of God.

But now farewell. I am going a long way

With these thou seëst—if indeed I go—

(For all my mind is clouded with a doubt)

To the island-valley of Avilion;

Where falls not hail, or rain, or any snow,

Nor ever wind blows loudly; but it lies

Deep-meadow'd, happy, fair with orchard-lawns

And bowery hollows crown'd with summer sea,

Where I will heal me of my grievous wound."