By the grace of God I am a Christian, by my deeds a great sinner, and by my calling a homeless wanderer of humblest origin, roaming from place to place. My possessions consist of a knapsack with dry crusts of bread on my back and in my bosom the Holy Bible. This is all!
If you face a medical crisis, ask a medical doctor. If you wish to know epistemology, ask a philosopher. If you wish to know how to live, find a wise man or or woman.
They may have no credentials whatsoever.
There is, in fact, no credential that can promise wisdom and more than a little evidence from history that credentials may get in the way of wisdom. Christianity happily acknowledges the importance of knowledge, but steadfastly refuses to confuse knowledge with wisdom.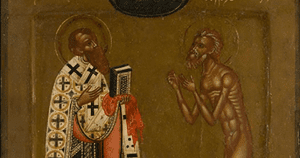 I have known many people in my life, some of the wisest have had doctoral degrees from fine schools such as Oxford, some have had no high school diploma. Wisdom is not a credential to be earned, but comes with experience and dealing with the experience appropriately. Those with great credentials, like Saint Basil the Great, can have wisdom, but so can Saint Basil the Holy Fool.
Do not trust the leader who only wants to hear from the credentialed. He will quote Saint Basil, but end up limited by the spirit of the age. The credentialed always run the risk of thinking inside of an "insiders" box that stultifies the uncontrollable energy of God. He comes with charismatic gifts and nothing can stop Him. Simultaneously, the man who cannot be bothered to do the hard work of reading Saint Basil the Great, thinking to find all truth in Saint Basil the Holy Fool, will end up an unholy fool.
Credentials are fine, eccentricity is fine, but neither is a sign of wisdom! Fortunately, we have a
guide
in Sacred Scripture of what
wisdom will look like
and for those inclined to take and read
The Way of the Pilgrim
spells out wha this found there.
The Way of the Pilgrim is one of the great works of literature and nobody knows the author. He is (almost surely) not particularly credentialed, but there is wisdom on every page. The credentialed hear the words of Sacred Scripture and know (already) how to soften their message, sometimes to the point of ignoring what is said. The simple man will hear that we should "pray without ceasing" and wonder how this is to be done! The simple man often wishes to hear the word and do it, while the credentialed man wishes to hear the word of God and have a chat.
Wisdom comes (in part) by doing. One can write about prayer, but to know prayer, a man must pray. If a pilgrim wishes to "pray without ceasing," he could ask expert what is meant, but he should also consult with a person who prays without ceasing!
"Ceaseless interior prayer is a continuous aspiration and a yearning of the spirit of man toward God. To succeed in this sweet exercise it is necessary to ask God frequently that He teach you to pray continuously. Pray often and fervently and prayer itself will reveal this mystery to you, how it is possible for it to be continuous, but it takes time."
The best teacher of any exercise may not be the most fit, but surely it will not be the man who has never exercised! Sometimes how to do a thing cannot be "told" but only unfolded through taking steps toward the goal. The way to reading, for example, can be generalized, but is unique to each reader. We commit ourselves to the task and then reading comes. We pray and then prayer might become unceasing.
Lord Jesus Christ, son of God, have mercy on me a sinner.