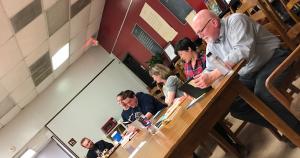 To go online in a college dedicated to Oxford style tutorials and discussions is a hard call.
We cannot really do what we do online as people are not just minds, words, or even voices. We have class together in a room in chairs, sometimes not so comfortable. Someone, usually me, spills Diet Coke. The cuckoo clock on the wall always sounds at just the right moment to deflate some point I am making.
When we see Rodriguez* agree with a point, this is more than just hearing his words of affirmation. He leans into his words. Arc will turn, look up, push her hair back and then speak in clipped phrases that go to the heart of the matter. Her compatriot will cover her face, look down, move in her seat, a bit nervously and then quietly suggest a most excellent idea.
My watch will remind me that it is time to stand up and so I will lean on the chair and look up at the winged horses in a picture drawn by a student who is now a philosopher and master teacher. A mentor's face beams down from a photo and I if I turn, a promotional poster for a Phillip Johnson lecture encourages me to ask the hard questions. Hope, the fairest flower in all Christendom, is poignant in a painting by a dear friend at a hard time in our marriage. Love endures.
And so does the dialectic.
That cannot be done fully online, so why do we bother?
We go on with a lesser thing, because it is a promise of the return of the greater thing. We have been to the mountaintop and seen the light, even if only briefly together, and so we will take hope and look for a reflection of that light in our words on screens. We will give up seeing the very image of God and see an image of that image on our screens knowing the road to the Good God will be longer as a result. Yet the way is still there if we persist.
One positive is why our students are giving up this wonderful part of the semester. Our seniors the first graduating class in the history of The College had so much still to do, but are willing to work in a lesser way without complaint. Why? They are young and could face this plague year without too much personal fear, but love of other people, those at risk, bids them to step back. They are not boasting of this virtue or even aware of it, because this is what home and school have taught them to do.
Do duty. Keep calm. Carry on. Love your neighbor as yourself.
These are bromides, slogans, not even much to discuss, but when they are lived, they energize and make possible deeper insights. They clear away mental roadblocks that prevent true learning. The calm can learn, the panic stricken cannot. The dutiful may conquer, the lazy never will. The man who hates his neighbor will never see the kingdom of God, but the man who can love even his enemies has a heart like God's own.
So our students are stepping back from genuine dialectical education: the whole person. They are doing so for the best of reasons as we respond (with the rest of our community!) to the present crisis. This is the least we can do, but perhaps this least will help give greater meaning to a lesser means of finding education.
A lesser means with a better heart may be productive of real learning after all.
God save the Republic. God save The College at Saint Constantine and bring us back to the whole dialectic soon.
————————————-
*College student names have been changed! The descriptions are true to life.