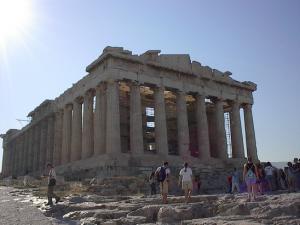 Economists tell us how the economy goes, but God tells us how it should go.
Christians know what God hates: oppression of the poor, stealing, and covetousness.
The rich must not oppress the poor. The rotten deals between big business and big government are an odor of death in Heaven's nostrils. Big government will always be in the hands of looters and moochers with the money to buy favors.
Both parties reward donors with graft, favorable regulations, and special laws while ignoring the rest of America. It sickens me to see any party declare some corporations "too big to fail" while the jobless rate grows. Big corporations hire lobbyists and lawyers to escape regulation. Mom and Pop struggle to run a business, but are strangled by regulations designed to enshrine special favors to those in the economic aristocracy.
Some American Christians favor small government because we know that large government will always fall into the hands of those wealthy enough to buy favor. Public servants face inevitable corruption becoming bureaucrats bloated on boodle.
The power to do great good will corrupt, the power to reach utopia will corrupt absolutely.
In this sad time, Christianity offers hope of improvement, but no promise of utopia this side of paradise. Perfection is the enemy of good enough and good enough is all we can safely hope to see. The party that promises perfection today will strangle our liberty and make this life hell on earth.
Christians are content with two basic ideals.
The rich and the poor must receive equal justice before the law. Most Americans are convinced that money can buy a lawyer and that such lawyers that can can be bought by money are no longer advocates of justice. The law is in the hands of sophists who will argue that good is bad for a fee. Minority and poor defendants too often do time while rich defendants walk away. Christianity demands that the law not respect the rich more than the poor, but the prison terms given to drug offenders in the inner city compared to drug offenders from the suburbs mock this notion.
We ask for a reformation in the law so that all Americans can anticipate an equal chance at justice. Christians reject special favors of the law for any man or woman based on wealth.
If the rich must not be favored, then the poor must not covet or steal the wealth of the rich. While the rich get no special favors, the poor cannot prosper by theft, graft, or threats. Too often the rich are forced to buy off the poor, or the false friends of the poor, with bribes.
Wealth stolen from the rich by punitive taxation is no more justice than wealth "liberated" by direct theft. An American should not face unequal taxation based only on his or her success.
It is not a crime to be rich and no virtue to be poor. It is injustice to favor the poor because they are poor just as much as to favor the rich because they are rich.
All of us should do to others as we would have them do to us. This simple idea from the mouth of the Lord Jesus Christ would protect the rich and the poor. The Golden Rule would necessitate treating all humans as humans and not as "rich" or "poor."
As we are equal before the judgment seat of God, so we must be equal before the throne of God.
Human beings have a God given right to life, liberty, and the pursuit of happiness. It is impossible for a man or woman to reach their full potential without the chance for meaningful employment.
Theodore Roosevelt was right that government must act to defend the consumer from corrupt private wealth.
Ronald Reagan was correct in asserting that states and private individuals must be given liberty from oppressive government taxation and regulation.
When we pay for our welfare today by borrowing our grandchildren's taxes, we act like sybaritic Romans and not as patriots.
Americans would accept a higher tax load if it came with reduced government spending and a balanced budget. Both parties have refused reasonable compromise on these issues. Like Reagan, Republicans should accept a social safety net and end the fantasy of a stateless state. Like Clinton and Obama, Democrats should accept that socialism does not work.
Christians fear gigantic states, businesses, or organizations because we put no trust in humankind. We know we are all fallible: church, state, society, and business. By dividing power as equally as possible between each sphere of society and through prophetic cries for justice, we hope to lessen the pain of broken humanity longing for justice.
We reject the utopian delusions of no state or of an omni-competent state.
American Christians reject any king, but King Jesus. We reject any theocracy before King Jesus returns, because humans would have to run it. We long for justice tempered with mercy and we will vote for the man or woman who will give us a government small enough to allow liberty, but big enough to preserve it.