When this perishable body puts on imperishability, and this mortal body puts on immortality, then the saying that is written will be fulfilled:
"Death has been swallowed up in victory."
"Where, O death, is your victory?
Where, O death, is your sting?"
I think of abs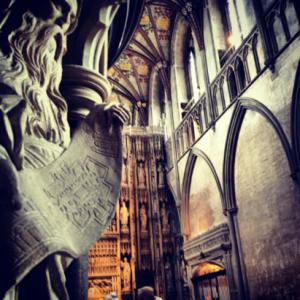 ent family and disagree. There is a great sting, a certain victory for death. This Christmas Aunt Karen will not make me a laugh, Father Michael will not enact the mystery of Bethlehem, and Phil will not deflate it all with his sardonic wit. I will lead a Plato class next week without Al's wisdom. The list of loss is too long, the missing too much, death's victory. The pain of being without so many I love grows greater with each year.
What about all those I love who are still with me?
God save them.
But God did not save those others?
I am with the brutally real testimony of blessed Job, who when he sees God knows that a good being with such power must have done what is best. This is true, but still I miss those gone. I long for hope. I want hope. I need hope.
Can I have hope?
The loneliness in my soul cannot be satisfied with a fantasy that "we will meet again." The loss is too great for dreams, because the reality of loss is hard, concrete that would harden around my heart. Sometimes Hallmark sentiment comforts me, but then grinding daily reality without these beloved folk hits me. They are gone. We miss them.
I cannot be placated by any opioid of the moment. They are gone.
Oh God.
Suddenly, I turn to my right where the icon corner is and see ancient saints and modern martyrs. I see the victims of Roman and atheist tyrants: first century to twenty-first. I honor their service and ask for their prayers and then recall that all the good that seems gone is now secured. The blessed dead are with God and all that was wonderful and wise remains here for me now. I can ask for Father Michael's prayers now, he hears me. I can cross myself in class and ask Al to see the Divine Word for me.
They are there and they are not silent.
They lift all of us up to God, loudly, boldly, and if they do not (quite) speak to me today as they once could, if my reason has lead me rightly, they are there in deeper reality than ever. I cannot hear them (clearly) only because I am not yet ready. Sometimes, by a miracle, I do feel them near: the blessed dead. They cheer me as fans in a stadium that can never be emptied by plague or peril. The dead are not dead, but more alive than am I!
This is not something I would have asserted without reason. This is not mere hope, but the product of centuries of careful thought by better minds than my mine on the cosmos and revelation.
Oh God.
God is the known unknown: the great Beloved. This good God made us to love each other and to fellowship with others of our kind. This sublime Beauty urges us to love each other and does not allow even death to utterly deprive us of these other beloved souls.
They pray for us now.
The hope, the reasonable hope, is sublime.