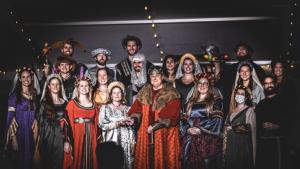 May we make some music, as we can, and so create our own beauty wherever we can. May we read a poem, tell a story, act out a play, in our homes.
If you do not feel you can read, sing, or play, then act as the audience. Just now, you may be the only audience a homely performance can have!
Living music and theater requires an audience. They are not "viewers," but participants. Those watching television at home cannot change a performance, but a lively audience can make the music or the show better. The performers, especially the hard working amateur cast, hear the applause, the comments, and a bond is formed.
A reason to hope that movie theaters survive is that a film is made to be seen in community. Unlike a play, the film will not change as a film, but the experience is different. I recollect watching Star Trek return to the screen after decades, when only fans kept the faith, and the joy of watching together ended up better than the film. Thankfully, Star Trek II was coming.
There are few chances to see living performances this Christmas.
This is the first year of my adult life that I will not have attended a ticketed piece of theater. I put off going in February and so lost my chance. We heard some splendid music, some of the best I have ever heard, at the Arvo Part Center in February and then silence. Christmas has come and there will be no performance of A Christmas Carol, no Nutcracker, no band or orchestral concert. All is silent, even here in Houston.
Our homes remain and our homes can be centers of making music, film, theater, art. There was an old custom, a bit forgotten, of "readers' theater" where the family acted out a play. Our own family does this each Twelfth Night of Christmas with family and close friends. Hand out the parts, get some costumes if you can, and read vigorously! This is good fun. Another Christmas custom has been a terrible poetry reading to start the season. If many cannot come, continue with those who can.
Google some carols and sing them. Dust off an old instrument (my recorder!) and play. Boldy embrace amateur status. Nobody is listening, but family, God, and the Holy Angels. Only the family may be critical of joyous noise.
Even if there was no virus, even when times return to "normal" in every part of the nation, we should make music, theater, poetry at home. Creating entertainment is different than consuming. If nothing else, watch a very bad movie, Christmas is good at inspiring them oddly, and give a commentary to the movie. This can be quite jolly! (Why does she have a different outfit every day while living in poverty? Does anyone, anywhere, talk this way?) A bit of sarcasm is fun, Jesus used it, but better still is watching a very good film and discussing what is happening.
At The School and College, I sing poorly, act marginally, dare not write a bit of poetry when I work with world class singers, instrumentalists, writers, and poets. I bumble along, an avuncular amateur, but I enjoy every minute. Mostly, I am the enthusiastic audience for the wonders they work up with little money and much talent.
Their time is coming again. Meanwhile, we can keep theater, music, and poetry reading going at home. The jolly amateurs endure. The beauty created is joy for the little part of the world where we live.
—————–
*Thankful, always, to the historic madrigal crew at The College and School. When safe to do so again, there is no substitute for a live crew and audience. May we have a "normal" performance again in 2021.