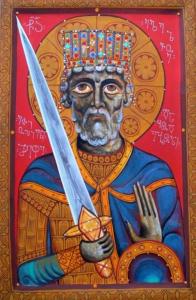 Dehumanize a human if you wish Hell.
Some people may seem difficult, less worthy, but who do we think we are?
The Creator made them persons, while we can only label, name them, often badly. We cannot create what "is" on the level of being, but mislabel what is with bigotry and bile. If we name badly, they do not change, but we are warped and ruined, damning ourselves with our damnable nomenclature.
We must name as we wish to be named.
When someone calls a baby by another name, this may be for some precision, fair enough, or this may be so we can kill the baby and not feel guilty. God help us. When we look at an older adult, someone that is "expensive," we might wish to say many things so that somehow we can stop helping them and so kill them with Scrooge like efficiency. When we look at anyone with fear that leaves no room for love, then we can turn them into orcs, sub-humans, not people, anything but us, and so do as wish.
Nobody will be in Hell who does not choose Hell. God is love and He wishes what is best for us, but will never force even absolute beauty on any soul. Choose as you will with all the information that millennia can provide! For hundreds of years otherwise "decent" Americans chose to look the other way and enslaved other Americans. George Washington is, obviously, better than I am in almost every way, but could not see his "servants" as human beings. If we are bored of hearing this, those of us who would not have been enslaved in that particular situation, then perhaps we should consider how it corrupted people far better than we are.
What could abortion on demand be doing to us when as great as George Washington could tolerate slavery?
God help me, if Washington could miss the obvious, then how can I be sure that I am not missing the humanity of the unborn, the full humanity of the sinful, the people "over there," or whatever wrong categorization I embrace? I do not condemn Washington so much as shudder in horror that such an otherwise great man, one who refused the temptations of political tyranny, could embrace economic tyranny with his "body servant." Washington knew enough not to serve a third term, but kept his intimate friend a slave.
God have mercy!
Slavery in the United States, given Christian ethics, could only survive if the "slave" was dehumanized. One had to create a "them" where there was no relevant difference. Any person could have rejoiced in the varieties of humanity, but only a fallen soul could decide the difference justified denigration. The great evils we do, those requiring no devils to provoke us, come when we demonize "them" and do not see what we have done.
Imagine reading that a girl had killed herself rather than reveal the place where her mother was hiding and then thinking: "We need a stronger Fugitive Slave Act."
No.
Again no.
If you are bored of this lesson, recall that a recent Houston chief of police was forced to eat lunch near the garbage because we dehumanized what God called human.
God help me. God help us all:
The Negro Girl

The Nashville American says a negro girl belonging to Louis C. Lisby, committed suicide last week, to avoid giving information of her mother's place of concealment, who ran away.

By Mrs. S. H. B. Smith The North Star, July 20, 1849

And must my mother feel again The dungeon rack, the crushing chain?

The stinging scourge, the bitter jeer,

Again fall on my tortured ear—

As all defenseless thou hast stood,

Beneath the infuriate lash—O, God!

And scarcely cared to lift on high

Thy look of speechless agony?

Thou who wast ever good and kind—

To duty all thy thoughts inclined—

Whose love has been the one bright ray,

Cheering my drear and toilsome way,

Before my tottering steps could stray

From the lone cabin where I lay,

And sobbed away the weary hours

Till thou shouldst come at shut of flowers;

Thy sultry tasks of daylight done,

To greet me, underneath the moon,

Stretching my arms in eager glee,

At the first sight I caught of thee,

Scarce turning from thy close embrace

To note gay buds which thou didst place

Within my hand—though dearly bought

The toys thy weary steps had sought.

And when my growing strength could share

Thy mid-day toils, if noon's hot glare

Fell on my shrinking head, how soon

Thy mother's heart has bid me come,

And smiled to see, me gently laid

Beneath the cool Magnolia's shade,

While thy own love-nerved arm has wrought

The double task, my rest that bought.

And O, when o'er me sickness came,

Unmindful of thy toil-spent frame,

Can I forget the tender care

Which seemed each pain to sooth and share?

I could have deemed it sweet to die

Beneath that soft, that loving eye,

While thou didst hold my fevered hand,

And whisper of the better land,

Bright visions, which no longer cheer

My darkened path of gloom and fear:

No! by thy love and by thy woes,

My mother, I can ne'er disclose

Thy refuge, though my spirits faint

At the strange pangs their threatening paint;

Yet I shall quail beneath the glance

On these stern eyes, whose look, perchance,

May read within my trembling breast,

The secret by no words confessed.

But unappalled, the death-closed ear,

Their fierce menacing tones may hear,

And no revealing word be wrung

From death's cold lip, and palsied tongue

O, it is fearful thus to die—

Yet, in that brighter world on high,

May some sweet angel plead for me, Dear mother, that I died for thee!*
——————
*Voices Beyond Bondage . NewSouth Books. Kindle Edition.