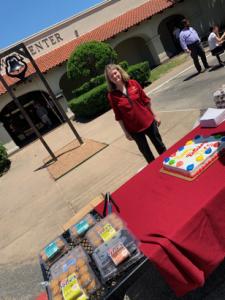 It has been done: on May 5 brave pastors and donors made K-16 happen.
What if there was debt free college and a classical, philhellene, Orthodox Christian fully integrated preschool through college program? What if you could graduate with an accredited college degree without debt? What if there were one-on-one Oxford tutorials from faculty with over one hundred years of cumulative great books experience? Today is the sixth birthday of The Saint Constantine School that aspires to offer a full preschool through College program. We can now know the model works having lower school graduates in every major Texas university and college program graduates in law school and the work place.
We have an exciting calling: cooperating with the Church to make souls fit for Paradise. Can it be done? It is being done.
How? The Constantine Strategy does not retreat from seeing reality while never confusing our present systems as what should be.
The Saint Constantine School sees things as they are, so we can be better than we are. Education begins with us as we are to give us the choice to become what we should be.
The world is the way the world is. A decent education must tell the truth about this reality, yet even this low standard is becoming rare in twenty-first century education. Ideology insists that 2 and 2 might not be 4. Ideology must never be used to hide the facts of science, mathematics, or history.
This is a School and College begun in a vow to tell the truth, the whole truth, and nothing but the truth, so help us God.
This vow means going beyond what is (the domain of science and history) to what ought to be.
A classical Orthodox Christian School lives in two worlds: this world and the world to come. There is a deeper truth than what we see around us just now: this is the truth about our souls as they should be. We want to be better than we are!
The first people to be called Christians in Antioch knew reality: the pagan Romans ruled. Martyrdom would be the result for seeking anything greater. These Antiochians knew all too well the way things went, had no illusions, but refused to give up.
They wanted God: the good, the truth, beauty. They demanded eternal justice: all that should be and will be in Kingdom.
We present the facts of what is and the reality of what should and will be.
This is the education advocated by Saint Basil and Saint Augustine. This is the very education that produced the scientific revolution, international law, and the best of this Republic.
I am thankful to be part of this community that is fact-based while aspiring to justice. We have a chance to strengthen this ancient, practical, education here in Houston and then to spread this to the globe. This vision, the Saint Constantine strategy, has received global attention, because we are renewing what was once common and must become common again. The vision is ancient but using the most modern tools. We prepare students for what "is" and inspire them for something better.
We look at now in the light of Eternity.