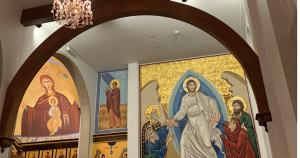 The good God commands jollification.
The world, the flesh, and devils resist a genuine good time, given that a good time is good! A legalist invents rules that prevent a good time and a libertine ruins the fun with a hangover.
We need training in joyful living.
The Faithful have finished Lent, gone to Church for more than a few hours, seen the True Light. Secular society would have us head back to the wheel and start running as rats in their social experiment. They will let us do whatever we wish, but give us no time in which to do it.
I love free markets, because they leave us free not to market.
Statists grind away for the omnipotent state. Scrooges carry on endlessly for more money. Christians proclaim liberty in the land. We work for the joy of the task. Jobs are a duty or a joy or they are not worth doing. If they are a joy, then they are good in themselves. The dignity of work, the joy of labor, is only a secret to the lazy.
Naturally, there are a few jobs that only exist, because of sin. We must police, because of sin. The officer, carrying the sword, does his duty and this duty is not in vain. If the jobs are a duty, something we must do in a broken world, then we do what we must so we can cease that task forever in the world to come.
For those whose job is not a joy, then the Church puts a check on the bosses. We get one day in seven to rest by Divine Law, but parties throughout the year. The Church stops us from doing nothing, while advising us that many things are not beneficial, knowing that the natural will make us happy. Happiness leads to joy and joy turns into jollification. There must be a feast as great as the fast or we will grow weary in well doing. Jesus Christ will return and there will be a holiday without end.
Yet paradise is not yet, so we need a foretaste. Pascha, this feast of the Resurrection of Jesus, should be preparation for a party. As an icon is an image of the saint, so a holiday is an image of paradise. Giving up something is easier than enjoying ourselves. How do we party well?
Broken people do decadence easily and make pain simply, but our broken cultures do not party well. Deep joy and simple pleasures go together without folly in a good life. We should know how to do this, but pleasure is more difficult for us than pain. We focus during difficult times, doing our duty, but in good times our attention wanders.
I am unsure how to cut loose, how to enjoy, how jollification can go in a good life. We need to trample down death by death, but now must live. Life is not about not doing, but about doing what is good, true, and beautiful.
We must create freely. God help us. God deliver us from legalism and libertine ways. God show us the joys of Paradise. God have mercy.
Amen.