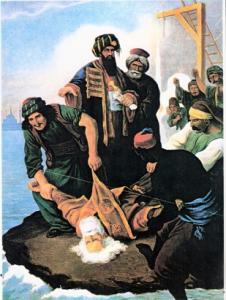 Live joyfully.
If we live by love, then we can build something good, true, and beautiful, best we can. We will not isolate ourselves, that grows rotten too easily. If some values (not all!) seem rejected by the particular time and place in which we live, then we must recall that some is not all. This time is not all times. This particular place is not all places.
If we are living out the truth, best we can, then tending to that hard and glorious city building is not for us. We may be a dissenting sub-culture, but that can be very good even for the ruling class of time and place.
Dissenting societies expose weakness or demonstrate strength in the ruling class or paradigm.
If an elite is weak enough, lacks confidence, then such societies cannot be allowed. They expose the hollowness of the rulers. For centuries mainstream American government and society tolerated Amish, Mennonite and related sub-cultures that have dissented from the American dream. Over the years the gap between the two has grown as technology has spread, so a certain fascination has also grown.
These counter-cultures show what might be. The Amish population doubles every twenty years. If growth is a sign of success, the ability to have and raise (mostly) happy children, then Amish culture is successful. If left alone, and if trends continue, the Amish will soon pass the Episcopal Church (USA) for active Sunday worshipers. One group is growing, the other shrinking.
If left alone, a group of religious people can adopt a very counter-cultural point of view and thrive. A key is to accept a certain powerlessness. The majority of people will not agree with the dissent immediately, but if left alone the dissenters can live good lives and provide a witness by lifestyle.
This presents an interesting and hopeful vision for global Christians in the United States. Globally Christianity is growing and secularism is in decline as a percentage of world population. All is well. American Christians do not face persecution as Christians do under the atheist Communist regime in China and have the ability to (mostly) live faithfully.
We can provide an alternative. If we are bold enough to state our values plainly, serve lovingly, and live our lives by our stated values, then we can serve as an alternative culture in waiting. If global Christianity, the Christianity of the Orthodox in Ukraine, Syria, the faithful of Ethiopia, Nigeria, Brazil, most places at most times is not "winning," then more is the pity, but there are many ways remaining to serve. 
We do not, after all, look to the kingdom of this world, but of the Christ. The City of God is kept in safety for all time, but that City is not yet fully realized. We would be wrong to try to force that City into being before God's good time.
Global Christians in the United States have a little voice in elite American institutions for the moment and perhaps this has mostly been so. 
If such Christians, the Orthodox, mass going Catholics, and faithful Evangelicals, who still number in the millions, build strong communities that support their values, then we shall see. This will be no utopia, but can be good. While everyone will not wish to join a community that eschews the morals of modern Hollywood and the Ivy Leagues, everyone is welcome. We all come as we are to become what we wish to be: souls fit for Paradise.
As a result, such global Christians must eschew tyrants, conspiracy theories, and short cuts to the hard work of building and maintaining healthy institutions. Cults of personality are particularly toxic and while as patriots we participate in politics, we do so faithfully.
If this is done, if a sub-culture is formed, globally connected, joyful, and normal, then we shall see. Can an elite where the leadership twitters constantly compete with a beloved community that simply lives normally and creates really? 
A danger of course is that the ruling class will be so insecure, and so unstable, that they can no longer tolerate alternatives, even historic ones like the Amish. They might clamp down in terror of alternatives. While one should prudently guard against such evil days, fear can never be motive. We will save what can be saved and live joyfully.