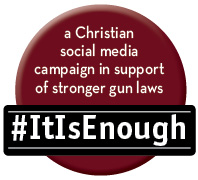 I am a co-founder, with author, blogger, and UCC minister Katherine Willis Pershey, of #ItIsEnough.
#ItIsEnough is an informal coalition of Christians who use social media to raise awareness of gun violence and speak out in favor of stronger gun laws.
For the first year after the Sandy Hook Elementary shooting on December 14, 2012, we launched a social media effort on the 14th of every month. We used social media tools, such as blog posts, Facebook status updates, and Tweets, to raise issues, questions, concerns, stories, and recommendations around gun violence and the need for more effective gun legislation. By doing so, we hope to help sustain the renewed energy to prevent gun violence that has become apparent after the Sandy Hook tragedy, and make clear that many Christians believe that stronger gun laws are in line with the tenets of our faith and the example of Jesus Christ.
Anyone who supports the intent, priorities, and theology of #ItIsEnough (outlined below) is invited to "like" the #ItIsEnough Facebook page. This will ensure that you  see what other coalition members post. While we don't have any active projects right now, we are leaving the #ItIsEnough page up as a place for Christians who care about gun violence and support legal reforms to share information and support. We hope to use the group as a springboard for future efforts, and are open to suggestions and ideas for how that could happen.
Our Theology
We believe that a model of personal and communal safety based primarily on self-protection, physical and firepower, and violent response to threats stands in opposition to the values preached and modeled by Jesus Christ.
The phrase #ItIsEnough comes from a story in the Gospel of Luke, chapter 22, in which Jesus, imminently threatened with a tortured execution, cautions his disciples against stockpiling and using weapons to protect him and themselves. When he asks his disciples if they have what they need to go out in the world preaching his message, a disciple mentions that they have two swords (for a dozen people). Jesus responds, "It is enough," which implies that Jesus recognized a need for armed protection, but saw such protection as both limited and secondary to other ways to achieve personal and communal safety. Jesus, through his words, life, and ministry, showed that people and communities are made safe and whole through mutual dependence, sharing of resources, the offer and receipt of healing, repentance and forgiveness, and acts of care offered to all, including enemies, the poor, the sick, and those reviled by their culture.
#ItIsEnough also sums up the feeling that many of us who have cared about the issue of gun violence for years had upon learning of the tragedy at Sandy Hook Elementary on December 14, 2012—enough is enough. It's time to change our culture's relationship with guns and enact stronger gun laws.
Also in Luke 22, one of Jesus's disciples attempts to defend him from the Roman guards coming to arrest Jesus by using a sword to cut off a guard's ear. Jesus replies to this act of armed self-defense by restoring the guard's ear and warning that those who live by the sword will die by the sword.  We see an echo of this idea in U.S. gun statistics, which show that a gun in the home significantly raises the risk of suicide, homicide, and accidental shootings. (Source: The Brady Campaign to Prevent Gun Violence)
As the National Council of Churches has said in a statement on gun violence, "We believe it is idolatry to trust in guns to make us secure," because it is only through reliance on God and following Jesus Christ's example of nonviolent, sacrificial, caring engagement with the world that we will truly be secure.
Statement of Intent and Priorities
While inspired to action by the mass murder of schoolchildren and educators on December 14, 2012, in Newtown, Connecticut, #ItIsEnough members are concerned about all gun violence, including suicide, homicide, accidental shootings, and gun-related injuries, believing that the God of peace and healing calls us to protect all human lives from the threat of violent death and injury.
#ItIsEnough members support stronger gun laws that hold promise for limiting the risk of violent injury and death via suicide, accident, and homicide, including
universal background checks for gun purchases;
licensing, registration, and waiting periods to allow comprehensive background checks and cooling-off periods, for all guns sold;
banning of semiautomatic assault weapons and high-capacity ammunition magazines;
technology to allow law enforcement agencies to trace guns used in crimes; and
education around gun safety, responsible gun ownership, and the public health crisis of gun-related deaths and injuries.
Aware that gun violence and stronger gun laws have not been priorities on our national agenda for a number of years, #ItIsEnough encourages Christians to raise these issues via social media monthly, on the 14th day of each month. We aim to ensure that our leaders and citizens do not forget the victims of the Sandy Hook Elementary School shooting and the thousands of other victims of gun violence each year, and continue to work toward stronger gun laws to lessen this toll of injury and death.
For More Information
#ItIsEnough was organized Christian writers/bloggers Ellen Painter Dollar and Katherine Willis Pershey. This document and other resources for Christians interested in learning more about gun violence and gun legislation are available on the #ItIsEnough Facebook page.
The list below includes organizations and articles where you can get more information about gun violence and advocacy for stronger gun laws. Many of the articles listed have informed and inspired the founding of #ItIsEnough.
#ItIsEnough was formally announced via the ItIsEnough Press Release distributed on February 7, 2013.
Resources
Coalition to Stop Gun Violence
Brady Campaign to Prevent Gun Violence
Mayors Against Illegal Guns
One Million Moms for Gun Control
Children's Defense Fund
Occupy the NRA
Americans for Responsible Solutions
Our Moloch by Garry Wills (New York Review of Books)
The Need for Action on Gun Violenceon the Patheos.com Faithful Democrats blog (includes dozens of links to statistics and articles)
The Answer is Not More Guns by Alex Seitz-Wald (Salon)
The Hitler Gun Control Lie by Alex Seitz-Wald (Salon)
The NRA's Dangerous Theology by Jim Wallis (Sojourners)
Your Brain in a Shootout by Amanda Ripley (TIME)
What Would Jesus Say to the NRA? by Shane Claiborne (Huffington Post)
Searching for Hard Data on Guns and Violence by Matthew Herper (Forbes)
Twelve Facts About Guns and Mass Shootings in the United States by Ezra Klein (Washington Post) – The author's correction to widely cited facts about gun ownership and regulation in Switzerland and Israel is especially worth noting.
More Guns, More Mass Shootings — Coincidence? by Mark Follman (Mother Jones)