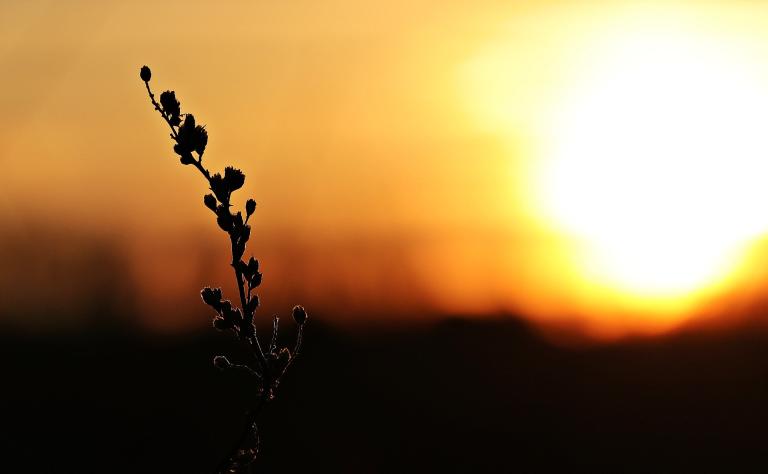 About an hour ago I stepped out of my back door to empty the recycling bin. It's a chilly Wednesday morning in January and I am having a rare toddler-free day at home.
Yesterday, the sky was grey and heavy; the air was biting cold but not quite cold enough to turn the irritating drizzle into a light snow. We English folk love to complain about the weather, and in the first months of the year it is often justified. It was January when we first moved here a few years ago, and it rained constantly for about four weeks. That relentless, oppressive sort of rain that soaks you through to a soul level and makes life itself seem grey and damp.
Today is different. It is still freezing (I spent ten minutes this morning scraping ice from my windscreen) but the sky is completely clear and startlingly blue, and the winter sun is providing some welcome warmth to an otherwise cold and dreary working week.
I picked my way through my damp, lately neglected garden, clambering over plastic garden toys and taking care to avoid slipping on the muddy grass, carrying the recycling bin. As I turned the corner behind the garden shed and into the dazzling sunlight, I was met with a stunning sight. For a split second, I genuinely thought my garden was on fire. The combination of damp, cold and sun was causing a swirling, silver mist to billow like smoke from the latticed wooden fence and the bushes growing against it. Bathed in sunlight, I could see every tiny sparkling droplet as the mist rose, circling and dancing before evaporating into the warming air.
My very own burning bush.
I decided that I needed to stop my household chores and simply observe this. Through the latticed fence I could see through to my neighbour's garden, and beyond that to three or four more gardens – and they were all on fire. There were cobwebs too, intricate designs spun artistically from the leaves of our blackberry bush to the wooden fence, bejewelled and twinkling like strings of Christmas lights in the sunlight. The leaves themselves were glowing vibrant red, yellow and green, and would transform into black silhouettes framed with gold if I shifted my viewpoint slightly.
I'd love to say that I stood still, captivated for twenty minutes, simply soaking up the beauty of it all. But obviously, my first instinct was to go back into the house, locate my phone, and spend the next five minutes trying to capture the scene adequately enough on video to be able make a decent Facebook update.
(Moses didn't have a smartphone. But if he did, I like to think updating his status would've been his first instinct too.)
Once I had satisfied my need for social media attention and popped back inside to make myself a coffee, I came back outside to just observe. Fortunately I hadn't missed it – the garden was still on fire, and I stood for another ten minutes drinking coffee and watching my garden fence, much to the bemusement of my next-door-but-one neighbour who was (optimistically) hanging out her washing.
---
I want to be the sort of person who has time to notice things. It's not every day that I come across an almost-literal burning bush like I did today. But I wonder how often I miss the beauty and glory of the present moment because my mind is somewhere else, busy overthinking something or trying to get through my to-do list before the 3pm school run.
I think about things a lot. Often ridiculously big things like God and the meaning of life. And the more I study and wrestle with these huge questions, the more I am convinced that the best thing I can do is to simply exist as fully as possible in the present moment. To observe the astounding beauty of the world around me for long enough that it has time to soak into my bones and awaken my spirit. To genuinely pay attention to other people, allowing the image of God in them to touch my soul, and allowing myself to be gently but firmly reminded that I am not the centre of the universe.
I'm never going to fully understand everything, and I don't need to. But I can choose to fully experience my own life. And no matter what I think about God, as a human being I am only ever going to experience him/her/it in this moment, right here in this body.
---
I'm still out here, as I write this – sitting on a plastic bag on a soggy bench with my MacBook balanced on my lap, finding it increasingly difficult to type as the temperature of my fingers drops. The sun is higher in the sky now and the magical swirling mist has gone.
But from now on, every time I take out the recycling, I will remember the time my garden was on fire. And I hope it will remind me to stay awake and pay attention to the deceptively ordinary experiences of everyday life, because the whole thing is sacred. Whether I'm dropping my kids to school, doing the laundry or walking along a busy high street, I am standing on holy ground. It's up to me whether I choose to notice it or not.
---
Image via Pixabay