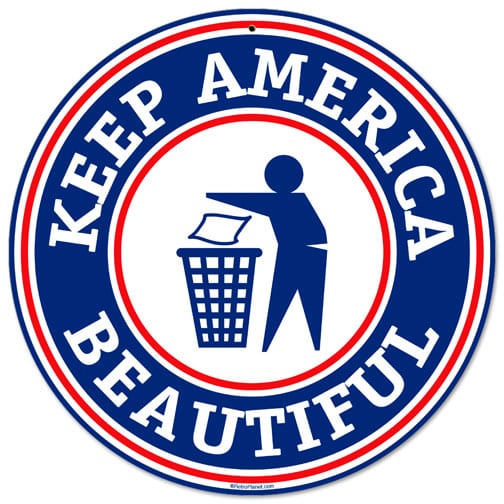 Pope Francis Wants to Include Ecological Sins in Catechism
At an international conference of lawyers last week, the Pope put forth his contention that a new edition of the Catechism would be including a new category of sins, titled "ecological sins". Already, across the internet, the RadTrad's hatred of this pope spilled over into invective about another 'liberal' outreach by this pontiff. As if that wasn't enough to get their blood pressure rising, the Pope also, in his address, made an off the cuff remark that speeches against Jews, gypsies, and those of homosexual orientation sounded like some of Hitler's addresses. Church Militant–the premier RadTrad site interpreted that reasonable concern for marginalized people as an authorization and legitimization of the gay lifestyle, and heaped more hatred on the Pope. But back to the ecological stuff.
Remember "Don't be a Litterbug" Campaign?
When I was a kid, the most persuasive commercials ever to change me were the 'Keep America Beautiful' ads that stressed cleaning our environment by not being a litterbug. "Don't be a litterbug," said the ads, "because every litter bit hurts!" It was a change in my whole life that I practice still today. If I drop the tiniest piece of paper, I pick it up. And I know I'm not alone because we have a clean country. Go traveling worldwide sometime and you'll see what I mean. Many of the other countries of the world dump tons of garbage on the roadside. Not us.
This is the Pope's Version of the Same Campaign
The Pope's ecological sin push is his "Don't be a litterbug" campaign. A close reading of what he is talking about including in the Catechism shows no hint of Climate Change dogmatism and no bowing down to the climate change freaks. He does talk about the polluting of our environment by big corporations and our human obligation to be stewards of creation. Framing this moral question in this manner is a great idea. Catholics have always been on the forefront of environmental preservation and stewardship. What the Pope is suggesting is nothing new; he simply is codifying Catholic Environmental Stewardship in the Catechism.
Not Another Example of the Pope's So-Called Liberalism
RadTrads and all those who think the Pope is trying to push a secular dogma upon us–stop it! Ecological sins are just as important as other sins. This earth is all we have. Let's keep it as pristine and beautiful as possible so the Scriptural promise of a new heavens and a new earth make us want to look forward to an even more beautiful eternity, rather than an ugly earth conjuring up an eternal cesspool.
I've upset the RadTrads lately. Please if you print this and throw it away as garbage, don't throw it on the ground–that would be a sin–throw it in the circular file, because every litter bit hurts!