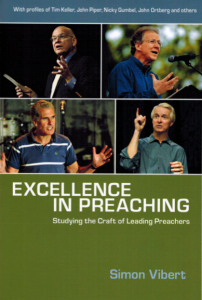 Excellence in Preaching: Studying the Craft of Leading Preachers (IVP, 2011) presents the composite of a good preacher. Simon Vibert of Wycliffe Hall in Oxford has written this book profiling some of the most gifted preachers in the Western Hemisphere. The preachers profiled in the book illustrate 12 things good preachers do well.  
Tim Keller – Awareness of cultural and philosophical challenges to the gospel
John Piper – Inspiring a passion for the glory of God
Vaughan Roberts – Allowing the Bible to speak with simplicity and freshness
Simon Ponsonby – Being a Word-and-Spirit preacher
J. John – Using humor and story to connect and engage and dismantle barriers
David Cook – Creating interest, applying well
John Ortberg –  Preaching with spiritual formation in mind
Nicky Gumbel – Making much of Jesus Christ
Rico Tice – Preaching with urgency and evangelistic zeal
Alistair Begg – Persuading people by passionate argument from the Bible
Mark Driscoll – Teaching with directness, challenge and relevance
Mark Dever – Exposing all of God's Word to all of God's people
In sum, Vibert says good preaching requires that you:
1. Be relevant and interesting, showing how the Bible applies to life today. Immerse yourself in God's Word so that you are speaking form his and not your own agenda. Also help people to appreciate that God's agenda is controlling what you are saying.
2. Feed your congregation with the Word, but also encourage an appetite for more. Work hard to make your sermon clear, simple and memorable, using repetition, alliteration and rhetorical techniques that work for you. Use language and words as well-sharpened tools of your trade. Communicate the importance and urgency of what you are saying, allowing it to move both you and your congregation.
3. Use humor and story to reveal your humanity. And be careful to do this in a way that helps the congregation to see that you have found your joy, purpose and meaning in God.
4. Speak naturally and personally. Reveal the ways in which the messages has had an impact on you individually. Don't be bookish, but be people-ish. Don't disconnect with people in order to prepare a sermon, but rather prepare by loving, praying for and rubbing shoulders with those people to whom you are preaching (153).
There is also a website which provides additional resources.