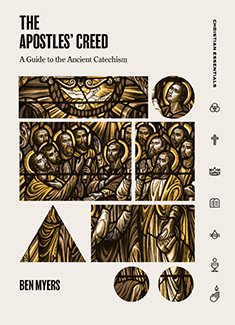 Ben Myers
The Apostles' Creed: A Guide to the Ancient Catechism
Bellingham: Lexham Press, 2018.
Available at Lexham Press.
By Laura Paul
Reading Ben Myers, The Apostles' Creed is a bit like having a conversation with a supremely wise and winsome Christian friend. You know, one of those very rare folk who can speak of truths you've heard a million times before, but in such a rich, fresh way that your mind and heart are left longing to know more? Myers does just this, but also adds to the conversation things you've never thought of before, skillfully using them to draw out the ancient truths with great richness.
Winsome, engaging, and insightful, Myers takes his readers on a journey through the Church's oldest and most fundamental confession – word by word, line by line. In doing so he engages in a brilliant task of ressourcement. That is, he begins by firmly rooting the creed within its ancient context. The words of the Church Fathers weave their way through his exposition with a vividness that serves to recreate a sense of the culture of the early church, thus allowing the reader to feel like they're 'in' the world of those who first confessed these words. This early Christian 'vibe' even pervades the aesthetics of this little volume. Each chapter displays icons and early church art upon its cover page, drawing the reader into the embodied life of the faith it expounds.
And yet, at the same time Myers also relates this ancient creed to the needs and concerns of today's Christians with just as much clarity and vivacity. He's confident to consider issues like the fatherhood of God as it relates current conversations around gender (19-22), or to consider the corporate identity of the "I" who confesses an ancient and communal faith in an individualistic age (9-11; 131-135). He presents a robust vision for the goodness of creation that both echoes and answers our present concerns about the world we live in (29-33), allowing the steady riches of ancient wisdom to address today's anxious issues. In reaching in both directions, Myers succeeds in truly drawing his readers into the Communion of Saints.
This little work could be beneficial in so many contexts: as a devotional, an introduction to early church history, a home-group study, or as a primer to the Christian faith for a curious friend or neighbor. However, from its opening paragraphs this volume begs to serve in the context in which the words it expounds found their original home, namely, Baptism. Myers reminds his readers that these words first served as the confession of those lead out at dawn on Easter Sunday to be plunged into a flowing stream, declaring 'I believe' in response to the Triune questions of the creed. The creed is a confession of belonging into the body of Christ, the Communion of Saints, and as such, this book would be an excellent gift to present to someone in preparation for or celebration of their baptism. But ultimately this volume would be valuable for anyone who desires to plunge afresh into the richness of the faith of the Church throughout the ages.
Laura Paul is a PhD Student at Ridley College.