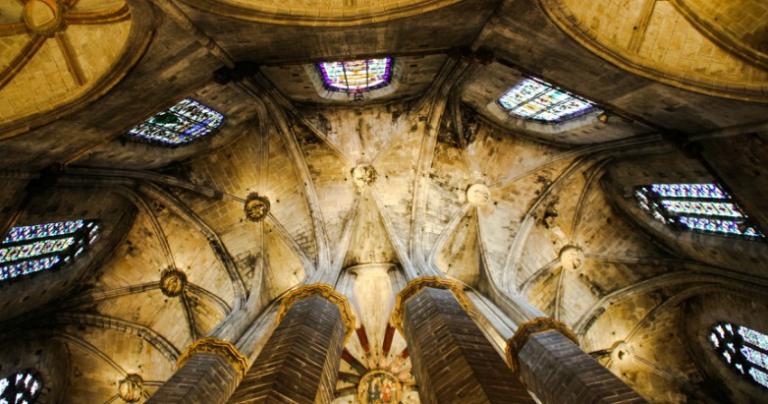 I had to do the liturgy all by myself one Sunday in a non-liturgical church. I was not formally prepared to add a sense of the sacred through anything but my sermon.
While sitting in the front row awaiting my time to preach, I witnessed a few paltry worship songs, a mock game show involving the recognition of films by film clips (horribly loud and garish), and other egregious upsurges of silliness. Then came my time to expound Acts, chapter seventeen. Being shocked and a bit angry, I groped for some gravity, some sense of the sacred—which was so absent from the previous twenty minutes.
Since there was no pulpit, I had to find a music stand on which to put my notes—more bad form. How could I clear the air? I took a moment of silence, then I prayed, which is not uncommon in the lowest of church gatherings. During the prayer said that we have all sinned and need forgiveness. I asked for God's presence in our midst. I don't remember all that I said, but I had to say something sacred, something that might pull us all back from the brink of utter banality. I did not expect that my sermon alone could accomplish this herculean task. I had entered a liturgical wasteland. Of course, there was no formal benediction, but an older man was called upon for the final improvised prayer, which involved a heart-felt reference to Popeye.
I came to love liturgy late, but I am not going to leave it. This is because God has worked these patterns of ritual meaning deep into my system. Liturgy is simply too good not to share with the wider church. Let me explain.
Culture structures life through patterns and repetitions. We typically stand when the national anthem is played. I shake hands with a bookstore salesman who I know. Mark and I both know what it means—some level of friendship and appreciation. When I teach, the students sit and I stand or sit. My students do not stand to greet me or stand during the class sessions. These are all taken-for-granted rituals of everyday life. Together they form a liturgy, however pedestrian or unconscious. In order to not be out of place, we respect the rules of the places we occupy. When rules are broken, liturgies are upended, people blush, and the police may even be summoned.
All church services are liturgical, given the set patterns that govern our assemblies—written and unwritten. I attended a charismatic church where the words liturgy or ritual were never spoken without the adjective dead. Yet this church's meetings had its structure, its unspoken expectations—its liturgy. It would have been taboo, or at least odd, to see someone cross himself. There was no cross before which to do a reverence (a slight bow).
God must be revered. All Christians agree. The Apostle exhorts us: "But in your hearts revere Christ as Lord (1 Peter 3:15). While I am committed to the historic liturgy of the church (I worship as an Anglican) and am developing a liturgical theology, my background, before the last ten years, only includes a sprinkle or two of liturgy. Christ followers from different traditions will worship differently, and I will not here make a case for all the elements of historic liturgy. I won't even insist on a particular order (except where it is obvious). Rather, we should consider a few liturgical elements that may bring a deeper reverence for our God in our corporate worship. I assume that all services will include a sermon or homily, so I will not mention that or where it should be placed in the service.
Time in the churches gathering should be marked by a beginning. We are leaving other spaces and trying to direct our full attention on God himself. Since popular culture seldom even attempts such actions, we ought to be summoned—from the earbuds to the altar, from diversion to devotion, from rapidity to solemnity, from bumping into people to being with fellow worshippers. In my Anglican church, the Cross is brought in during the procession. Some Protestant churches blanch at this. Nevertheless, some call to worship is appropriate. Many churches today have nothing of the sort, and the worship leader may simply make some off-handed remarks to begin the music. (Others are more thoughtful.) Such faulty transitions make it harder to enter into the sacred place of concentration on the holy.
A call to worship may come from a church's liturgical tradition, which may be buried by popular culture liturgies. If a church has little or no liturgical sources, leaders may draw from historic Protestant sources such as The Book of Common Prayer. I know of one Southern Baptist Church in New Orleans that does just that. The age of miracles has not passed.
The public reading of Scripture is a liturgical essential. Evangelical Protestants may have high views of the Bible, but which often is not translated into a high view of its reading during services. But as Paul says, "Faith comes by hearing and hearing the word of God" (Romans ). Women and men who read should have strong and trustworthy voices and the ability to read with few mistakes. But what texts should be read aloud?
Those congregations that follow the church year will have no trouble knowing what to read, since a Gospel and other reading is planned throughout the seasons of the church year. At minimum, the text assigned for preaching should be read, and, I strongly suggest, a reading from one of the Four Gospels also.
Sin is the only problem with the world. Christ, who never sinned, died to forgive sin and set us right with God and neighbor. Yet how often do we confess our sins publicly? Protestants believe that Christians are forgiven of all sin through their conversion. We must confess our sins and our need for the saving remedy of Jesus' life, death, resurrection, and ascension. That is once for all and assures us that we have been
justified
by faith through grace. Thanks be to God! Should we stop there, though?
By confessing our sins through a prescribed prayer of contrition, we unite with the sinners around us and come back to the Cross of Christ. I need to be reminded of my sin and its gravity before God and my neighbor. I need to say this, not just think this. I also need a form that concentrates my contrition and presents it honorably to our God. Protestant traditions offer us a rich load of confession. Consider what I say every week in my Anglican church.
Most merciful God,
we confess that we have sinned against thee
in thought, word, and deed,
by what we have done,
and by what we have left undone.
We have not loved thee with our whole heart;
we have not loved our neighbors as ourselves.
We are truly sorry and we humbly repent.
For the sake of thy Son Jesus Christ,
have mercy on us and forgive us;
that we may delight in thy will,
and walk in thy ways,
to the glory of thy Name. Amen.
Then our pastor gloriously assures us of pardon through Jesus Christ. In some traditions, the confession of sins is done without speaking a prayer such as this. Confession is, truly, good for the soul.
Jesus Christ taught us how to pray as well. Thus, the Lord's Prayer should be a part of every service. Evangelicals are usually taught conversational prayer and extemporaneous prayer. We have heard pastoral prayers and read books on prayer. That is all good, but we need structure and reminding. We need to pray the same prayer together, week after week, year after year. Can we exhaust its meaning?
The end of the Lord's Prayer contains a doxology: "For yours is the kingdom, the power, and the glory forever. Amen. However, a distinct and regular doxology insures that God is rightly and richly praised every service. The doxology usually addressed God as Trinity, and this is the best practice since being the Trinity is the unique nature of the one true God. This is the Gloria Patri.
Glory be to the Father,
and to the Son,
and to the Holy Spirit.
As it was in the beginning,
is now,
and ever shall be,
world without end.
Amen.
All Protestant churches celebrate communion at some times and in some way, spare the Quakers (God bless them). Since the most significant event since the creation of the world was Christ's death on the cross, how can we not remember and participate in the bread and the cup weekly? I wish I could partake daily! Any biblically-based observance of the Lord's Supper offers to us the gospel in word and in food. I intellectually know Jesus died for me. I have defended Christianity for forty years in my teaching, preaching, and writing. But I need to remember Christ through the acts of my body. My senses need Christ. I ought to "feed on him by faith and with thanksgiving" as my pastor says every week before communion.
I will exercise liturgical self-control and only mention one other vital aspect of liturgy. In fact, it seems odd to advocate a minimal liturgy now that I have worshipped as an Anglican for over ten years. But I conclude, appropriately enough, with the Benediction.
Just as a service needs a beginning, a call to worship, so also it needs an ending, a blessing on us and our pursuits. The service is ending, our service is unending. We need to be reminded of this. A benediction, at minimum, wishes blessing on others according to God's will as revealed in Scripture. I have found dozens of benedictions in the Bible, and most of these are appropriate for worship. Consider two from Scripture, which are often used in liturgical benedictions.
Now may the grace of our Lord Jesus Christ, the love of God, and the fellowship of the Holy Spirit be with you all. Amen (2 Corinthians 13:14).
The Lord bless you
and keep you;
the Lord make his face shine on you
and be gracious to you;
the Lord turn his face toward you
and give you peace (Numbers 6:24-26).
By now, my High Church readers may be upset that I did not include more and my Low Church readers may think I am a stuffy traditionalist who is just going through the motions. So be it. I am still learning. I further realize that there are informal liturgical elements that summon the soul to rectitude before God, as in the historic black church. I offer these ruminations for the contemplation of God's people on how to worship well with others. Neither high church nor low-church nor in-between church will be pleasing to God without the inspiration of the Holy Spirit. So, let us worship "in spirit and in truth," however we may worship.
---
Douglas Groothius is the professor of philosophy of Denver Seminary and the author of Walking through Twilight: a Wife's Illness–a Philosopher's Lament.