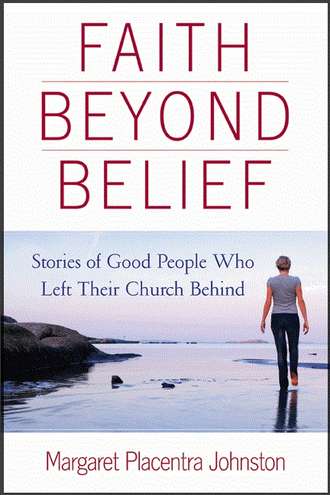 Stories of Good People Who Left Their Church Behind
by Margaret Placentra Johnson
Copyright: 2012
Publisher: Quest Books

Click here for events on this Book!
Click here for a trailer of the Book!
Summary:
Faith Beyond Belief gives a much-needed voice to the "good" people who have left their church but whose spirituality continues to mature. Johnston uses first-person stories as well as known spiritual authorities in describing various stages of religious growth. Some of these real-life accounts are by nonbelievers; others are by those among the growing numbers of the "spiritual but not religious." All are thoughtful people with too much integrity to live what they consider a lie.

The stories of the nonbelievers-including an ex-Catholic, a former Mormon, and a clandestine Muslim apostate who left his community after the attacks of 9/11-show how complete confidence in human reason can lead away from literal religious interpretation. But, while that step is a necessary one on the spiritual path, it is only intermediate. Her second set of stories are of people at the "mystic" level who can tolerate paradox and see truth and reality as multidimensional.

Johnston's book will help doubters to see things in a new light as well as those who are struggling to clarify their own spiritual vision. It also points beyond the atheist/believer controversy wrecking such divisive havoc in our culture today.
Endorsements:
Faith Beyond Belief is a twofold pleasure. First are the stories of ten courageous people's quests for spiritual integrity. Yet, even more compelling are author Margaret Placentra Johnston's commentaries. She helps us see how these inspiring vignettes illuminate our own search for a form of faith that connects with an ever-evolving understanding of life. Much like the Buddha more than two thousand years ago, Johnston shows us some essential steps we might take in becoming lamps unto ourselves.
Robert C. Fuller
-author of Spiritual, But Not Religious: Understanding Unchurched America
Postmodern humanity is hungry for a postmodern faith, and Margaret Placentra Johnston offers us just that. Blending the insights of James Fowler and Paul Ricoeur with the stories of real people grappling with their own spiritual maturation, she offers us a map and a model for our own wrestling with truth. This is an important book.
Rabbi Rami Shapiro
-author of Rabbi Rami's Guide to God (Spirituality & Health Books)
This book will undoubtedly be considered one of the contributing factors in advancing our understanding of evolving human spirituality and its place in our lives in the new millennium. By acknowledging the emergence of mysticism in ordinary lives, Margaret helps to outline a way of living that is relevant, wise and healing.
Reverend Karen Tudor
-Senior Minister, Unity Church of Practical Christianity, New Braunfels, Texas
-co-host of "Biblical Power For Your Life" on Unity Online Radio (www.unity.fm)