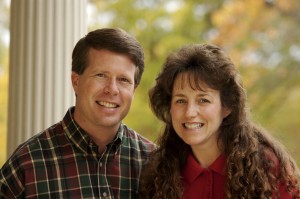 After announcing that she was pregnant with her 20th child, Michelle Duggar has had a miscarriage. She and husband Jim Bob Duggar announced the sad news last week, and the internet has been abuzz with opinions about whether the 19 Kids and Counting family had gone too far.
Today, Michelle announced that she plans to have a funeral for the unborn child, whom she named Jubilee Shalom. As we've discussed here, all of the Duggar children have names that start with J, so this could have been a name they already picked out for the baby or one they chose recently. I can't help but wonder if 'Shalom' was inspired at all by their recent Israel vacation.
The family will host a memorial service for Jubilee on Wednesday and had a private service yesterday.