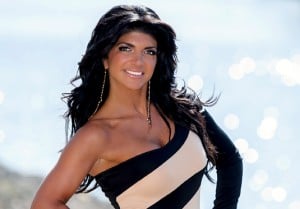 The fourth season of The Real Housewives of New Jersey premiered this week, and it seems like the theme for the season is going to be the entire cast vs Teresa Giudice. In this episode, Teresa dealt with accusations that her husband is cheating on her while also feuding with cast members Melissa, Caroline, Jacqueline, and Kathy, two of whom are related to her. On her Bravo.com blog, she addressed some of these issues:
Everyone deals with challenges differently. I was the first to admit last year that there were days I didn't want to get out of bed, but I have four girls that look up to me to see how I handle tough situations. My belief is that you get out of bed, you put a smile on your face, you put one foot in front of the other, and you trust in God. I choose to be positive. It's a choice. It's not because I'm too stupid to know what's going on or trying to be fake. It's because I've always been a positive person, and I want my children to be as well. Whatever works for you, God bless!
I wonder if Teresa thinks she can pray the bankruptcy storyline and her husband's possible jail time away.