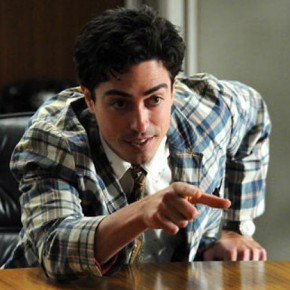 I love Mad Men, and I like the way that the first two episodes of the new season have the characters reacting to the massive changes taking place in the world around them. This week's episode, "Tea Leaves," featured two new characters: a black female secretary and a male Jewish copywriter.
The copywriter, Michael Ginsberg (played by Ben Feldman), comes from a working class family and asks Peggy to please be proud of him because no one else in his life is proud of him. When he goes home that night to tell his father that he got the job, his father pulls him close, touches his head, and recites the traditional Blessing of the Son which normally occurs on Shabbat. (There's more info about the blessing here.)
While Michael seems like an interesting character, the scene with his Yiddish-accented father felt sort of awkward. Normally
Mad Men
is pitch perfect when it comes to acting and staging, but the scene was a bit Borscht Belt-y for my taste. (Case in point: my boyfriend walked into the room during the father scene and said "What, was
Judd Hirsch
busy?" just as I said "I guess they couldn't get
Fyvush Finkel
?")
Anyway, let's hope we learn more about Michael over the season. Also, there's been a lot of speculation that Jane Sterling, nee Siegel, is Jewish, and her cousin Danny Siegel sure seemed like a member of the tribe when he was on a few episodes last season.