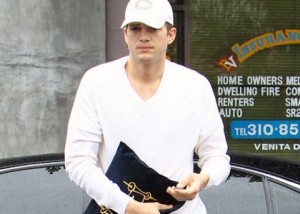 Rabbi Philip Berg, who founded the celebrity-beloved Kabbalah Centre in LA, died last weekend. A funeral was held for him in Safed, Israel, a town known for its mystic roots and connection to Kabbalah (the Jewish kind, not the pop-culture kind).
Among the white-clad attendees was Ashton Kutcher, who was there with girlfriend Mila Kunis. Mila is Jewish, but I have no idea if she considers herself a Kabbalist. Ashton, however, is one of the celebrities most committed to the religious group. He and former wife Demi Moore were actually married at the Kabbalah Centre in LA. Other celebrity followers include Madonna, whose son Rocco Richie had his bar mitzvah last year, Real Housewives of Beverly Hills star Kyle Richards, and Sandra Bernhard.
Us Magazine reports that Ashton was deeply moved by the funeral ceremony, which included a recitation of "Ani Ma'Amin," or "I Believe," which is based on an ancient text by Maimonides.