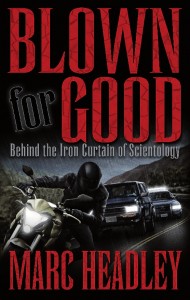 Ever since actress Leah Remini publicly acknowledged that she had left the Church of Scientology, her moves have become more and more interesting. There have been rumors that she's working on a memoir about her experiences in Scientology and the actions that made her want to leave – the catalyst was apparently when Leah was at Tom Cruise and Katie Holmes' wedding and asked after Church head David Miscavige's wife, who was a friend of Leah's and has been all but 'disappeared' by Scientology.
Now, Leah is getting back into the spotlight as a cast member on the new season of Dancing with the Stars.
Leah hasn't said very much about her departure from Scientology – mostly, she has let either her publicist or her sister speak on her behalf. But Leah just sent a HUGE message to fellow Scientologists without even saying a word. She made sure that photographers waiting outside of Dancing rehearsals would see her walking into the studio while holding a copy of the book Blown for Good, a memoir by well known ex-Scientologist Marc Headley.
Among other things, Marc says that he partnered with Tom Cruise on Scientology exercises and that Scientology forced his wife, Claire (who left the religion along with Marc) to have abortions because having kids would take up time better spent serving the Church. The couple now lives in Colorado with their two kids and are active, outspoken critics of Scientology and David Miscavige.