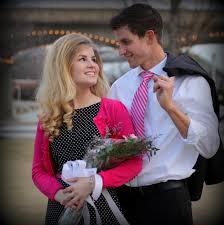 Erin Bates and Chad Paine are engaged, which means one important thing – time for the wedding registry! The couple has registered at Target. Most of the stuff on the registry has already been purchased, but they still need a toaster and a set of measuring cups if you feel like getting them anything.
I have to say – I find their registry pretty refreshing. Sometimes people in the public eye get really greedy and start asking for ridiculous shit like 24K gold doorknobs and coffeemakers that were developed by the space program, but Chad and Erin are asking for really normal stuff that they will actually use every day.
According to the registry info, Erin and Chad's wedding is on November 2 near the Bates' home in Clinton, Tennessee. Congrats to the cute couple! I cannot wait for the big-haired wedding day pics. By the way, Erin and Chad's engagement will definitely be on the new season of 19 Kids and Counting since United Bates of America was cancelled.