Erin Bates, one of the kids from Duggar family spinoff show United Bates of America, is engaged. Her mom, Kelly Bates, announced the news on the family's blog earlier this week. After going through their religious group's practice of courtship, Erin and Chad Paine officially got engaged. The two of them clearly have a lot in common – Chad is one of 12 kids, while Erin is one of 19.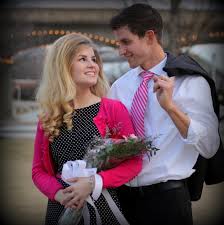 Erin is attending a Christian college and is a semester away from her degree in music. (For a side dose of hilarity, check out the ads for Erin's "Christ-honoring piano" CDs.) Chad has a blog, It's All About His Perspective, where he has talked a lot about his relationship with Erin and his love for her, but it hasn't been updated since they got engaged, although the last post (on Erin's birthday last month) mentioned that they had looked at wedding rings and talked about getting engaged, so I'm guessing the proposal wasn't a complete surprise.
Congrats to the young couple! Now if only Jim-Bob Duggar would loosen the reins and let one of his unpaid babysitters – er, adult daughters – get married next. I guess they'll have to put Erin and Chad's wedding on 19 Kids and Counting since the Bates' show got cancelled and all the Duggar girls are forced to stay at home cooking their parents' dinners and washing their brothers' socks in perpetuity.