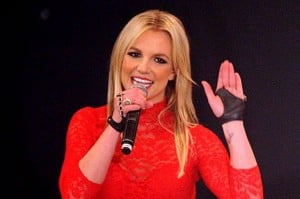 Britney Spears has a new album coming out and is about to kick off a two-year residency in Las Vegas, so she's out there working the publicity machine. During a recent Twitter chat, a fan asked Britney what her favorite book was, and the singer replied, "Anything by Max Lucado."
Lucado is a Texas-based preacher and author of a hundred (yes, a hundred) Christian-themed adults and kids' books. Their titles include Grace for the Moment, Outlive Your Life: You Were Born to Make a Difference, and God Thinks You're Wonderful. In 2005, Reader's Digest dubbed him the Best Pastor in America.
Britney grew up in a Southern Baptist family and still identifies herself as a Christian, so it's not surprising that she reads Max Lucado's books. However, Radar points out that Lucado says that marriage should only be between a man and a woman and is, by that token, anti-gay marriage. I'm not totally convinced that Britney is anti-gay by association, though. If she is, her fanbase would take a huge hit, and I hope she realizes that.